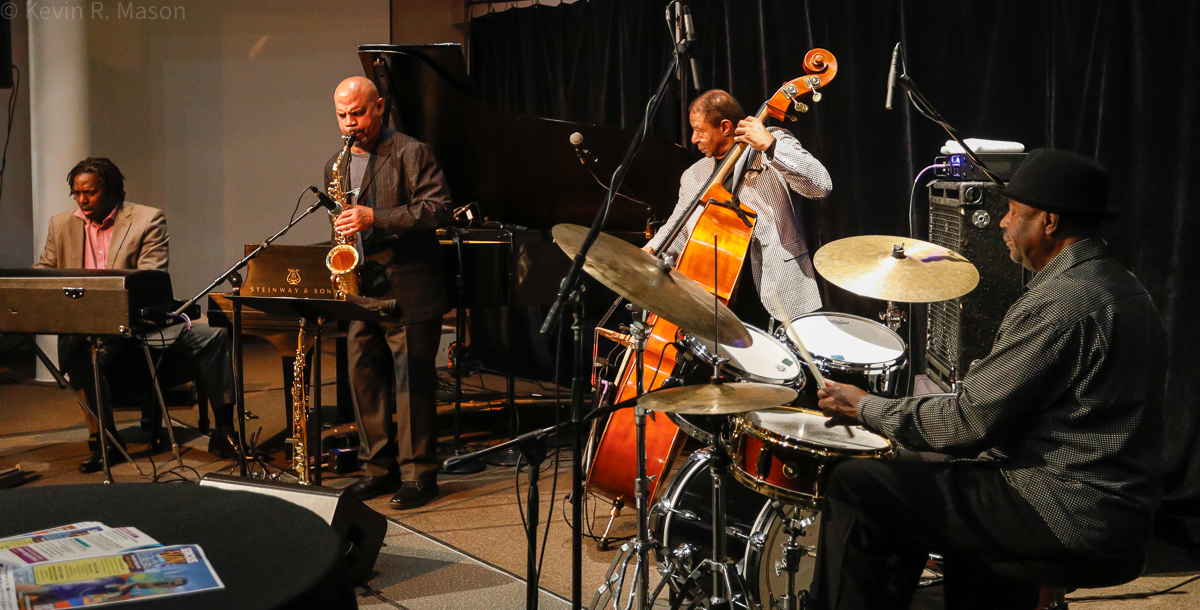 The 2022 JazzFest White Plains took place from September 14 to 18. This was the 11th festival, and it has become quite a draw for music lovers in the New York tri-state area, presenting big names as well as up-and-coming artists. The JazzFest White Plains was blessed with gorgeous weather throughout the five days, which added an additional lovely touch to the festivities.
Grace Kelly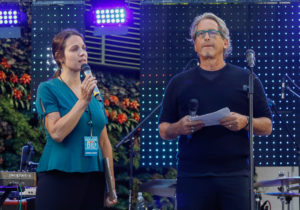 On Thursday, September 15, there was an outdoor concert/reception starring saxophonist/vocalist/composer Grace Kelly. Brittany Brandwein of Westchester Business Improvement District welcomed the crowd and thanked the sponsors. Then, music producer Doug Panero discussed the music he presents, and listed the many accomplishments of Grace Kelly, who has collaborated with Jon Batiste, Lee Konitz, Lin-Manuel Miranda, Harry Connick, Geri Allen, Dee Dee Bridgewater, Terri Lyne Carrington, Dave Brubeck, Phil Woods, Wynton Marsalis, and many others.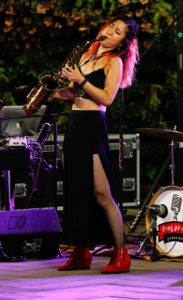 Grace came out in a slinky black outfit with red booties and launched right into an avant garde rendition of "A Night in Tunisia" that featured an impressive extended sax solo. Then her band, bassist James Hazelwood-Dale, keyboardist Benjamin Hoffman, and drummer Ross Pederson joined in on this enjoyably eclectic version of the jazz classic. "Good to See You Again" was an energetic, rock-infused song that Grace wrote during the pandemic, when she imagined what it would be like to see live audiences again. She was excited about performing live again, and sang with enthusiasm, displaying exuberant stage presence! The group was on a 28-city tour, and Grace said, "We're having a ball!"
Kelly wrote the next song when she was having a bad day. After speaking to her mother, who really lifted her spirits, Grace sat down to compose "Trying to Figure It Out." She said the song practically wrote itself. It was a bluesy tune about getting through tough times, and Grace put a lot of emotion into the poignant piece. On "Is You Is Or Is You Ain't My Baby," Kelly once again did double duty, adding charming alto sax notes to her fine vocals. There was a dazzling drum solo by Ross Pederson, and each band member added a special touch to this fun, lively performance. The next composition, the beautifully romantic "Feels Like Home," was one of Kelly's most personal. She said, "I wrote it for my love," and she discussed when she first met her boyfriend and started to fall in love right away.
Then she spoke of the courage it took for people to look forward to better times during the worst of the pandemic. "All That I Need" was sung passionately by Kelly, followed by an equally passionate saxophone refrain. "The Night Time" was a plaintive tune that Grace wrote for lovers, and it featured a stand-out melodic bass solo by James Hazelwood-Dale. Grace believes some days she needs to pump up her bravery, so she started picturing herself in a crown, and that inspired "Queen," which had a strong, driving beat alluding to the strength and mettle of a monarch.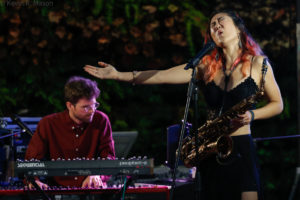 Grace was inspired to write "We Will Rise" in homage to Maya Angelou's famous poem, "And Still I Rise." The group's cohesive harmony worked well with a recording of Maya reciting her poem, and the power of this interlude gave goosebumps. The song, like the poem, was about women persevering over all obstacles. This stirring interpretation was the perfect combination  to address the ongoing political discord in the news. The band got a standing ovation, and when Kelly asked if they could play a couple more songs, the crowd responded with a resounding "Yes!" She thanked the audience for being there once again, and she introduced noted musician Paul Shaffer and his wife Cathy, who were in the audience.
Before the next song, Grace Kelly really lived up to the meaning of her first name. Throughout the concert, whenever a song ended, a woman (possibly inebriated) would loudly shout out comments. She wasn't exactly a heckler, because the things she was shouting were mostly positive, but they were something of a distraction. Luckily, the music was so good, she was mostly ignored. Alas, just before the band performed "St. Thomas," the loud woman took advantage of a momentary lull and started addressing Grace, rambling, and stating that this was her first time out to hear live music in two-and-a-half years. Although there were a few grumbles from the crowd for her to sit down and be quiet, and some artists might have had the woman escorted out, Kelly engaged her with charm. It was really a "grace-under-pressure" moment, and she handled this awkward moment with kindness and poise. Grace finished with the joyful number, "Shut Up and Dance." It was a wonderful dose of musical endorphins, spreading good vibes!
Joey Alexander
On Friday, September 16, jazz wunderkind Joey Alexander did two sets at the ArtsWestchester venue. On the ArtsWestchester website, it says, "Three-time GRAMMY® Award-nominated Bali-born pianist Joey Alexander has accrued a lifetime of accolades. The pianist, composer, and bandleader is one of the most emotive and compelling pianist-composers active on the scene today–including being the youngest artist ever nominated for a GRAMMY® Award in a jazz category."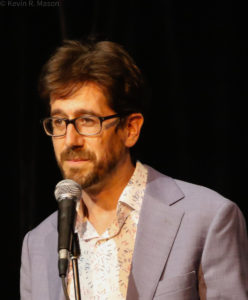 Aaron Paige, Director of Folk Arts at ArtsWestchester, welcomed the crowd. He said "JazzFest would not be possible without our sponsors, including Bank of America." He spoke about upcoming events at the JazzFest and gave a praise-filled introduction to pianist Joey Alexander, who started playing professionally at 9 years old. Now at 20, he is exceptionally accomplished! He is sometimes referred to as an old soul, since he plays like someone who is at least twice his age. Joey was joined by bassist Kris Funn and drummer Kendrick Scott.
The first song of the set, the lovely "Promise of Spring," began with Funn's introspective bass solo that ranged from mellow to percussive. The following piece, "Winter Blues" was a beautifully elegiac, minor-key number with the tight trio performing together admirably. Joey said, "Thank you so much for being here," then he introduced his band members. The next serving was a delightful, up-tempo piece that featured excellent offerings by each musician, especially a fine bass solo by Funn.
"Summer Rising" began as a beautiful ballad and progressed into quite a powerful contemporary jazz tune that showed off Joey's piano chops in the best way, with his fellow artists backing him up superbly.  Another gorgeous ballad, "Angel Eyes," began with Alexander's moving piano solo. There was a lot of syncopation, and the group's seamless interplay was magical.
"Peace" indeed lived up to its title. It was an elegant melody that just washed over the audience with waves of calmness. You could imagine listening to it while watching an exquisite sunset, chilling out to all the visual and aural beauty. Joey told the crowd, "We thank you for spending your evening with us."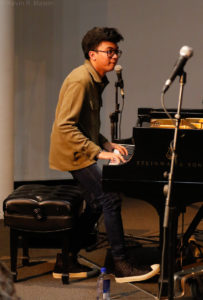 The last song of the first set was titled "Warna," which Joey said means color. It was fast-paced and exciting, and the trio put everything they had into it!  At one point, Joey stood up while he was playing the piano, as he is known to do when things really get going! It ended with a thrilling crescendo, and they received an ovation so explosive that it compelled them to return for the encore "Downtown" that they played with great flair and fervor! Despite all his talent, Joey has a very humble demeanor, and he bowed to the crowd after the second standing ovation. It was an excellent end to the first part of the night.
After a break, Aaron Paige once again introduced the Joey Alexander Trio for the second set. The group began with a contemplative piece, "Dear Autumn," that displayed each musician's virtuosity individually and collectively. It sounded like the musical embodiment of someone pushing through a difficult situation, and persevering in the end. They followed with a somber tune that drew the crowd in with its expressive perspective, and the steadfast beat that all the players kept unwaveringly.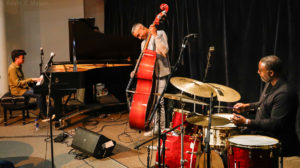 They performed their first set gem "Peace," and once again the song had an entrancing, captivating effect on the crowd. At the end of the second set, the trio received another raucous standing ovation, so for an encore, they played the dynamic "Remembrance." Joey Alexander really lives up to all the praise he has received since he burst onto the scene as a child prodigy. This was Joey's first time at JazzFest White Plains, and his shows were clearly among the high points of the Festival!
Workshop/Conversation with Legendary Jazz Bassist, Buster Williams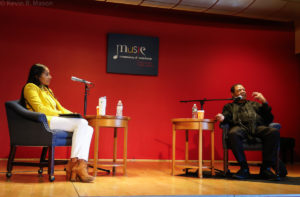 On Saturday, September 17, Buster Williams did two events. Aaron Paige introduced Andromeda Turre of Sirius XM, who was the host of Workshop/Conversation with Legendary Jazz Bassist, Buster Williams. Andromeda introduced the illustrious Buster Williams, who has known her since she was born. Buster reminisced about getting much of his music education from his musician father, Charles Williams, and how he jumped from piano to drums, but didn't stick with either, which he felt disappointed his father. However, after listening to a recording of Oscar Pettiford playing the contrabass, he was so entranced that he asked his father to teach him to play the double bass. At first, Buster's father said no, due to him stepping away from the piano and drums, but his mother, Gladys, convinced her husband to teach him. His dad was a disciplinarian and told Buster that he was going to do everything he said, and he'd do it when he said to do it. Buster almost had second thoughts, but he stuck with it. Now at 80 years old, he said that not a day goes by when he does not think about and honor his father.
Andromeda played Williams' music, including a song he recorded with the Herbie Hancock Sextet, and he discussed his time with Hancock. He noted what an exceptional musician Herbie is, and how Herbie hears all this music in his head that he brings to fruition. Buster recalled how he was working with both Nancy Wilson and Herbie Hancock at the same time for a while and what that entailed.
Buster talked about the process of going from sideman to bandleader, and the importance of early mentorship. He joked that at first, he was always the youngest person in any band, then one day he was the oldest. He thinks that many young musicians are missing out on mentorship these days, and he bemoans that fact. "I truly believe that in order to fulfill your potential, you need a mentor." He says even the legends sometimes disagree on things, and still learn from each other. He also noted how much joy jazz still brings to him. "If it was not for this music, maybe I'd be dead now."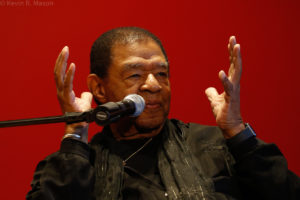 Buster is known for his innovative bass lines. Williams said that he likes the variety of things he does, from being a leader, a sideman, composing, and going into the studio. He credits his father with teaching him various genres for his wide-ranging career. "Ginseng People" was Andromeda's own choice of Buster's song that was played at Montreux Jazz Festival. Buster recalled that Chick Corea was once asked why he traveled so much, and he replied, "People don't come to sit in my living room." Buster talked about the highs and lows of traveling on the road, especially after 9/11. He also explored how social media has changed things for both better and worse. He discussed his original composition, "Joined at the Hip." It was about a time when finances were tight, and he did not have money for the kind of Christmas present he wanted to give his wife, so he wrote this song for her. He talked about his composing process, and how he often just sits down at a piano and lets the music flow. Williams has a great sense of humor, and he is sharp and articulate. It was an entertaining and educational event.
The Buster Williams Quartet: "Something More"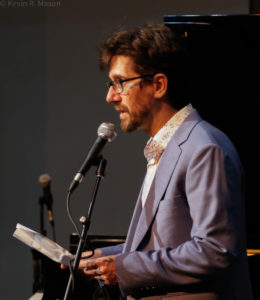 Later that evening, The Buster Williams Quartet: "Something More" gave a two-set concert at ArtsWestchester. Aaron Paige introduced Buster Williams with a listing of his many stellar accomplishments, including working with Thelonious Monk, Terence Blanchard, Erroll Garner, Larry Coryell, Quincy Jones, and many others. Williams also composed soundtracks for the movies McKenna's Gold and Twin Peaks: Fire Walk With Me.
Buster got down to business right away when he said, "We'll talk later." Williams, joined by Steve Wilson on sax, keyboardist Brandon McCune, and drummer Lenny White, charged right into a swinging number, "Where Giants Dwell" with a smooth expressive solo by saxophonist Steve Wilson, and outstanding cohesive additions from the rest of the band. The tune "The Triumphant Dance of the Butterfly" was a thoughtful meditation in minor key that offered each musician their time to participate in the conversation. Every contribution was much appreciated by the audience, and Buster had an excellent bass solo.
The next song, "Christina," started with an exquisite saxophone interlude by Wilson, that was heart-meltingly beautiful, and Wilson's sax phrases were featured heavily throughout the piece. The rest of the band gave first-rate support, and the melody had the sweetest denouement. They followed with a sparkling version of "All of You" that was a hit with the crowd and featured stellar piano grooves by Brandon McCune. Buster's bass intro on "I Didn't Know What Time It Was" perfectly set the mood of the melody, and McCune displayed his technique simultaneously playing both the piano and the keyboard, impressing the appreciative audience. The rest of the group did not miss a note, and Lenny White added some red-hot drum licks to the song, receiving an ovation right in the middle of this number!
Aaron Paige returned after a break to introduce Buster Williams and his band for the second set. The first song of the second set, "The Wind of an Immortal Soul" was a high-energy piece that briefly included a nod to "A Night in Tunisia" early on. The band's vigorous interplay kept the packed audience mesmerized. Although Buster's bandmates were all much younger, his excellent bass playing was in lock step on every song! "Song of the Outcast" had a mysterious, enigmatic feeling that called to mind smoky clubs, and couples meeting for the first time. At one point, McCune played a little riff from "Willow Weep for Me." Then, they performed Thelonious Monk's "Epistrophy," a percussive piece that energized the audience, who heartily applauded each extraordinary improvisation.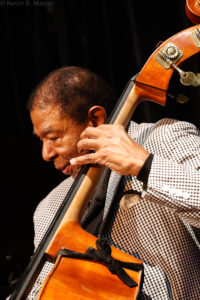 Buster said, "I'm at a loss for words," which was fine, since the music spoke loud and clear for him and the band. Their next piece, "Tokudo," highlighted the dazzling drumming skills of Lenny White. "In the Middle of a Rainbow" had Buster singing in a surprisingly effective and emotional voice, making a fine finish to this splendid concert. This two-set show was another great offering from JazzFest White Plains, which just kept the wonderful music coming!
White Plains Jazz & Food Festival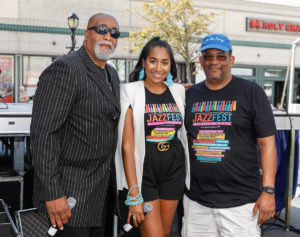 On Sunday, September 18, the final day of the 2022 JazzFest White Plains presented a full afternoon of outdoor jazz sets and a variety of food vendors. Vocalist Joe Boykin and musician and radio host Andromeda Turre of Real Jazz on Sirius XM were the Festival hosts of the day. Andromeda did the introduction honors for the first group of the day.
The Westchester Center for Jazz & Contemporary Music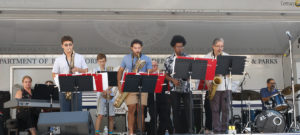 Tenor saxophonist and Musical Director, Joey Berkley welcomed the crowd and talked about the school. He invited guests to visit their table after the set to learn more about the school's programs. Berkley was joined on stage by students Nadia Suven on trumpet, Malachi Walton on alto sax, Will Tucker on trombone, Theo Kronblum on tenor sax, Joshua Sherwood on bass, Elian Herrera on baritone sax, and faculty members Tony Jefferson on drums, Tony Kadleck on lead trumpet, and school owner Liz Sander on keyboards. Their set included "Bernie's Tune" and "Have You Met Miss Jones" that featured great solos by Nadia, Theo, Liz, and beautiful extended tenor phrases by Joey. The group of both faculty and students were both tight and inventive. They also looked like they were enjoying themselves immensely. The audience enjoyed the flow of "Jive Samba" and the impressive improvisations on "A Tude." It was a perfect, late-summer day, without a cloud in the sky, and this band was wonderful to listen to in the fabulous weather.
The Buddy Rich composition "Groovin' Hard" was the last song of the set, and they played it for all they were worth, sounding much like the big bands of yesteryear! Throughout the show, the music was consistently excellent, and the audience really appreciated it. The Westchester Center for Jazz & Contemporary Music is really doing a great job of teaching young musicians. This was an impressive beginning to the day of music.
The Albert Rivera Quintet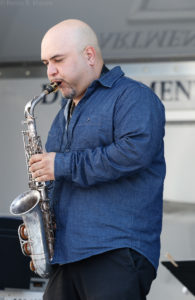 Andromeda Turre gave high praise to talented teacher/composer/saxophonist Albert Rivera. This is the fifth time Albert has appeared at JazzFest White Plains, and he wears a lot of hats! Among his many titles are adjunct Professor at SUNY Purchase College and Director of Operations at Litchfield Jazz Camp. Rivera has collaborated with Don Braden, Dave Stryker, Avery Sharpe, Claudio Roditi, Rachel Z, and Junior Mance, just to name a few. At White Plains, he was accompanied by bassist Alex Ayala, keyboardist Will Evans, drummer Ian Carroll, and guitarist Mike Godette. The band started with the high-energy number "The New York-Hartford Connection," followed by "Greentones," a calming tune that was perfect for the atmosphere of the day. Fine solos abounded, and the song was composed in tribute to one of Rivera's mentors, saxophonist Jimmy Greene.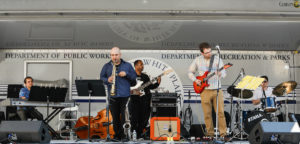 "The Injustice of Justice" is a protest song about the chokehold death of Eric Garner. It was a mournful, yet lovely piece, with Albert's impressive sax phrases front and center. Sidney Bechet's "Si Tu Vois Ma Mère" ("If You See My Mother") was in honor of all the mothers in the audience, and it was a lovely trip back in time. On "Me, Myself, and I," Ian Carroll's excellent drumming was featured, with the rest of the band offering staunch support on this exciting, rapid-fire piece. The set's finale was the scintillating original composition by Rivera, "Back At It," and it was a perfect capper for a marvelous show.
The Carlos Jimenez Mambo Sextet
Next on the line-up was the Carlos Jimenez Mambo Sextet. Flautist/vocalist/composer Carlos Jimenez showed an early aptitude for percussion instruments and the trumpet before he took up the flute. Carlos' back-up ensemble included Eddie Venegas on trombone and violin. The Latin music of Carlos Jimenez was so hot and alluring, that several couples got up to dance. The second song had a sensuous cha-cha flavor, with Carlos' flute starting things off in high style. The music continued to get even more people to dance, and who can blame them?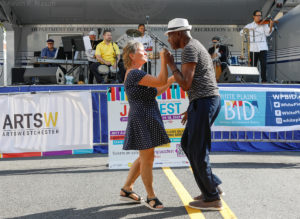 The group followed with a song with Jimenez's vocals at the forefront, as well as his superb flute playing. Of all the groups at the JazzFest, this one got the most people dancing to the irresistible beat, so infectious and superlative was their set! Carlos gave a moving a tribute to the recently deceased trumpeter Marty Scheller, who was known as a force in Latin music, and Scheller was also arranger for Mongo Santamaria. The Carlos Jimenez Sextet added such a wonderful flavor to the afternoon of music!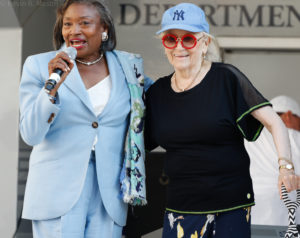 ArtsWestchester CEO Janet Langsam introduced Andrea Stewart-Cousins, New York State Senator, and informed the audience that Stewart-Cousins had arranged for ArtsWestchester to receive 2 million dollars! Senator Stewart-Cousins praised events like JazzFest White Plains, and she stressed the importance of arts in these times.
The G. Thomas Allen Quartet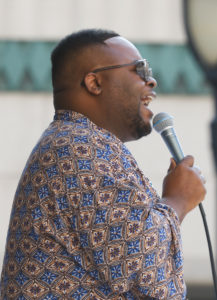 Vocalist G. Thomas Allen was the winner of the 2021 Sarah Vaughan International Jazz Vocal Competition (The SASSY Awards), and he was the first male winner in the history of the awards! Allen was joined on stage by saxophonist Sharel Cassity, bassist Jeremiah Hunt, keyboardist Dennis Luxion, and drummer Greg Artry. The show started with G. Thomas displaying his multi-octave voice on a moving rendition of "Good Morning Heartache," and amply displaying the skills and exceptional falsetto that won him The SASSY Awards. "Love For Sale" was a syncopated delight, and Allen's talented back-up musicians supported him all the way!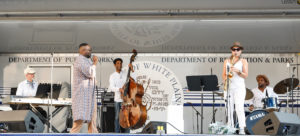 "Temptation" by Freddy Cole was a sultry version that had G. Thomas singing his heart out, and it featured excellent sax and piano contributions by Sharel Cassity and Dennis Luxion. They followed up with a stirring "Cry Me a River." Allen really put something down vocally on this number, and the band's instrumentals were totally on point. Then G. Thomas said, "We're going to do some Gershwin," and he noted that it was a beautiful day as introduction to "Summertime." The group's performance was a sublime up-tempo piece that enthralled the crowd with high levels of musical skills, and a fiery drum solo by Greg Artry. The original composition "Drowning" was a touching tale about love, performed with a lot of emotion. Allen said, "I'm honored to keep this music flowing, keep it moving." He talked about what he was thinking during The SASSY Awards, and said he wanted to sing a song that would win over esteemed vocalist Sheila Jordan, who was one of the judges. He picked "Misty," and his vocals at JazzFest were unbelievably romantic. The final song of the set was another of G. Thomas Allen's original compositions, a blues piece where Allen got the enthusiastic audience to sing along, and a good time was had by all! It was a fun way to finish this first-rate concert.
Ragan Whiteside and Friends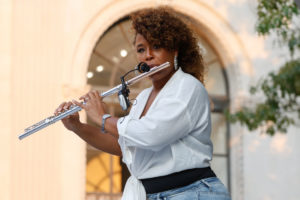 Joe Boykin introduced the last set of the JazzFest, Ragan Whiteside and Friends. Flautist Ragan Whiteside is an NAACP Award nominee, and she was the first artist to win the Best Contemporary Jazz Artist Award at the inaugural Jazz Music Awards. She was accompanied by Davine Tuch on keyboards, Rich Harrison (aka RAH) on drums, Pete McCann on guitar, and bassist Billy Grant. The first song was a whimsical "Corey's Bop" that was inspired by her son. "Jam It" strongly featured Ragan's flute, with her band giving great support on the funky smooth jazz tune.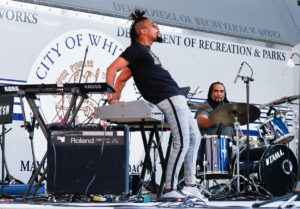 Ragan noted that the sun was starting to set, and it was cooling down. She heaved a sigh and joked, "A day without sunshine is like night." The crowd got a kick out of the corniness of the joke, and Ragan was tickled at the audience response. She talked about growing up in Mt. Vernon, and seeing Latin jazz flautist Dave Valentin, who was a very accessible mentor. The song "Valentin Dream" was in tribute to her mentor, and during a solo, Davine Tuch played the keyboard with his hands behind his back, without missing a note! The audience ate it up, with some dancing in the street.
Ragan asked if anyone had heard of The Ohio Players, and when the audience affirmed that they did, the group launched into a jazzy rendition of an old school Ohio Players' classic "Sweet Sticky Thing," that took full advantage of each musician's talents. Ragan's melodic flute flowed over the crowd, and she added her admirable vocals on "Remind Me." Whiteside got the crowd to sing along and taught different parts to each side of the audience. The sidemen indulged in some good-natured ribbing, saying that neither side sounded good after the first practice, but eventually they conceded that the crowd sounded good. Everyone had a rollicking good time on this song. Other songs in the set also included "Off the Cuff" and "I Can Understand It." In honor of the recently passed Ramsey Lewis, their encore was an amazing version of "Sun Goddess." Keyboardist Davine Tuch did some great scatting, and Pete McCann's guitar riffs were out of this world! RAH added a red-hot drum solo, and Ragan's flute hit high notes with the greatest of ease. Ragan Whiteside and Friends most definitely closed out JazzFest White Plains in fantastic style!
In Conclusion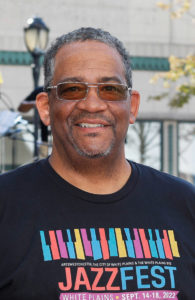 Wayne Bass, Commissioner of White Plains Recreation and Parks and member of the JazzFest committee, was seen managing behind the scenes throughout the Fest, troubleshooting and fixing issues, large and small. He is one of the linchpins of the yearly JazzFest White Plains, and his dedication to this event is clear. At one point during the last day, Wayne introduced White Plains Mayor Tom Roach, who discussed how great the JazzFest was this year.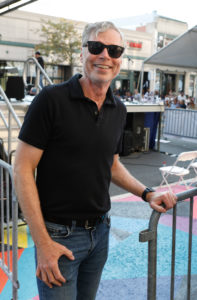 The sponsors of the 2022 JazzFest White Plains were Bank of America (main sponsor), Cappelli Corporation, Apple Bank, Mid Atlantic Arts, New York State Council on the Arts, Westchester Center for Jazz and Contemporary Music, B.J.'s Wholesale, Westchester Magazine, Bright Energy Services, and Argent Ventures.
The 2023 JazzFest White Plains will take place from September 6 to 10. The artists include 2021 Guggenheim Fellow, pianist Helen Sung; Doug Munro and La Pompe Attack, whose music includes updated interpretations of the hot sound of Django Reinhardt; The Louis Hayes Quartet, led by the iconic drummer Louis Hayes, who has collaborated with the giants Oscar Peterson, Horace Silver, and Cannonball Adderley; Colombia-born harpist extraordinaire, Edmar Castañeda, who has performed with Wynton Marsalis and Hiromi; icons John Scofield & Joe Lovano, who have known each other and worked together since their days at Berklee College of Music; vocalist Lynette Washington, who has worked with Aretha Franklin and Lenny Kravitz; singer Joe Boykin, who was encouraged by Patti Labelle and worked with Bobby Womack; Cécile McLorin Salvant & Sullivan Fortner, who have often worked together, and both have made their mark on the jazz scene; and Endea Owens and the Cookout, helmed by bassist Endea Owens, who has ventured out as a leader for the first time this summer and has been setting stages ablaze! This year's Festival is not to be missed. For more information, go to: www.artswestchester.org.