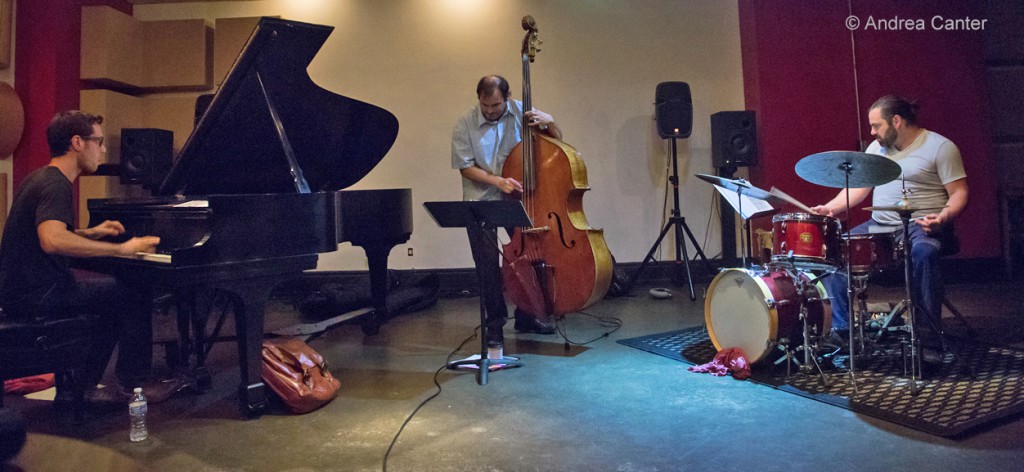 Each artist is an original on his own, and together they are the triple embodiment of inventive music. The leaderless trio of Bates Nichols Bates headlines a triple bill at Vieux Carré in downtown St. Paul on Friday, March 11. The evening launches early (6 pm) with pianist Jon Pemberton, followed by the prime time sets featuring the University of Minnesota Morris Jazz Band followed by Bates Nichols Bates, with a few collaborative efforts in-between.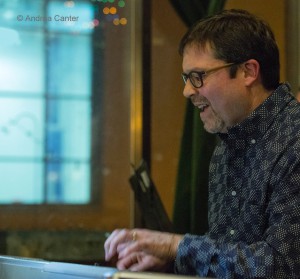 Jon Pemberton (6 pm)
One of the most versatile brass players in the Twin Cities as well as an accomplished pianist, Jon Pemberton grew up in Fergus Falls, MN. His penchant for music was evident early, and he began piano lessons at age six, followed by guitar lessons and trumpet studies at age 11. He also acted and sang in productions at the local college. By age 12, Jon was serious enough about the piano to travel two hours round-trip to study with a university professor, also continuing to play trumpet in the school band. He formed his first combo in high school.  Today, Jon Pemberton's resume includes performing with the Skatet, Shangoya, the Paul Renz Quintet, George Avaloz, Jim Martentic and more. Leader of his own Pembertones and Trio, and member of No Time for Squares (performing at the upcoming Twin Cities Jazz Festival), he has also shined in his tributes to Lee Morgan. He's comfortable in straight-ahead as well as more avant garde formats. In addition to performing, Pemberton is a dedicated educator, teaching tuba (!) through the Hopkins School District.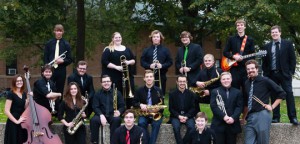 University of Minnesota – Morris Jazz Ensemble (9 pm)
University of Minnesota – Morris is steeped in a tradition of high quality jazz music. Under the direction of Jonathan Campbell, Morris has two large jazz ensembles and numerous jazz combos for academic credit. The ensembles consist of both music majors and non majors who are interested in furthering their knowledge of jazz music while fine-tuning their musicianship and communication and leadership skills through practice, rehearsals, recordings, and performance opportunities.  Along with the curricular aspects of the ensembles, the Morris jazz program takes an active role in promoting jazz in the community as well as nationally and internationally. Over the past 20 years, the Morris jazz ensembles have performed for many music conventions including the MMEA convention in Minneapolis and the NCMENC in Chicago. Most recently, the ensembles have travelled to the Elmhurst Jazz Festival in Elmhurst, Illinois (2011, 2012) as well as state high school tours involving clinics and master classes. They have also performed internationally at the Montreux Jazz Festival in Montreux, Switzerland (1991, 1997, 2000, 2004, and 2008), The North Sea Jazz Festival at The Hague, Netherlands (1994, 1997, and 2008), the Vienne Jazz Festival in Vienne, France (2004), and at Carnegie Hall with The Count Basie Orchestra (1992). The Jazz Ensembles schedule tours and have performed throughout the state of Minnesota.
After playing their own set, UMM Jazz will join Bates Nichols Bates for a few tunes.
 Bates Nichols Bates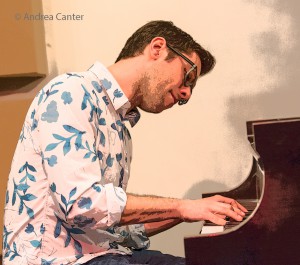 Bryan Nichols studied classical piano with a "neighborhood piano teacher" but came to jazz on his own, developing his skills without formal jazz studies. He did participate in the Minnesota Institute for Talented Youth (MITY) summer jazz program where he worked with veteran piano teacher Denny Malmberg, and after studying genetics in college ("which I've done absolutely nothing with, ever"), moved to Chicago where he performed with Corey Wilkes, Maurice Brown, Jeff Parker, Nicole Mitchell, Von Freeman, Ari Brown, Hamid Drake and Ernest Dawkins. Back in the Twin Cities in 2005 after the Jazz Ahead program, Bryan quickly became a favorite pianist among the more forwarding-spinning jazz ensembles, working with the Kelly Rossum Quartet, Rossum Electric Company, Rossum's Nicollet Circus Band, James Buckley Trio, Chris Morrisey Quartet, Zacc Harris Quartet, Off the Map, Gang Font, Todd Clouser, Adam Linz, and the Minneapolis/Chicago collective, City of Fiction, and appearing on recent recordings by James Buckley, Chris Morrisey, Gordon Johnson, Kelly Rossum and Nicole Mitchell.
Over his career, Bryan has appeared at international festivals including Sons d'Hiver (Paris, France) and Kerava Jazz Festival (Kerava, Finland) as well as at local and regional festivals such as the Chicago Jazz Festival, Minnesota Sur Seine Festival and Twin Cities Jazz Festival. In 2009, he received a grant from the American Composers Forum, and in 2010, a fellowship from the McKnight Foundation.  As leader, Bryan heads his own trio, quartet, quintet and nonet (We Are Many), releasing his recording debut Bright Places in 2011. Bryan keeps busy with ensembles led by Zacc Harris, Lars-Erik Larson (Mancrush) and other creative musicians, and often performs in duos with James Buckley and others at the Icehouse. He recently performed solo at the Jazz at Studio Z Winter Jazz Fest, previewing works from his upcoming solo release, due out this spring on Shifting Paradigm Records.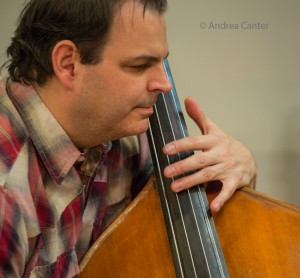 Chris Bates (and his brother, drummer JT) grew up with jazz, sons of trumpeter/bandleader Don Bates. He began bass lessons in 4th grade and progressed to jazz studies at the University of Wisconsin-Eau Claire before returning to the Twin Cities to study with Anthony Cox. A member of the Motion Poets, Chris was a 1999 McKnight Composer Fellow, and often lends his compositions to the many ensembles that he juggles throughout his busy performance schedule. Over his career, he has played with Mose Allison. Lee Konitz, Joe Lovano, Steven Bernstein, Howard Levy, Michael Attias, Ira Sullivan, Eric Alexander, Tim Sparks and more. In addition to his local ensemble work, he has played solo concerts using both acoustic and electronic instruments, duets with fellow bassists Adam Linz and Anthony Cox, and appears on over 30 recordings. In 2012, Bates debuted his quintet Red 5 and a new trio, Good Vibes, with vibes master Dave Hagedorn and drummer Phil Hey. With Red 5, he released New Hope in 2013; Good Vibes released its self-titled debut recording in April 2014.
In 2014, Chris launched a monthly improvisation series at Jazz Central, and was one of four recipients of a commission from local new music ensemble Zeitgeist for new works, which premiered at Studio Z during the 2014 Twin Cities Jazz Festival. At the 2015 Twin Cities Jazz Festival, Chris was on one stage or another with multiple ensembles, and appeared with the Atlantis Quartet at the 2015 Iowa City Jazz Festival. He performs regularly with too many bands to list, including the Atlantis Quartet, Red Planet, and Dean Granros' Tall Tales. He recently debuted a new trio with pianist Joe Strachan and drummer Matt Buckner, performing new works over three successive monthly gigs at Jazz Central.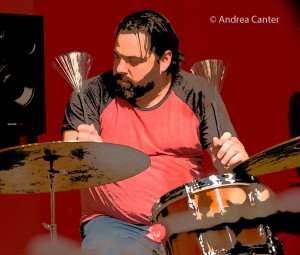 JT Bates is one of the busiest drummers in the Twin Cities, on and off the bandstand. He started out on drums at age 7, contingent upon taking up piano as well — a condition set by his father, band director Don Bates. "I didn't like [piano] at the time, but I'm really glad I did it now," he told The Current recently. "It helps my drumming. Because of that, I hear intervals and I understand that side of music, besides just rhythm." JT met Michael Lewis and Adam Linz as a teenager, and together they formed the band that became Fat Kid Wednesdays. With friends and brother Chris, he formed the popular early 90s band, The Motion Poets, and later became curator for the long-running weekly improv series, Jazz Implosion, at the Turf Club's Clown Lounge, which moved to the Icehouse after the Clown closed about fours years ago.
Over his career, JT has worked with a variety of Latin, electronic, and experimental ensembles, including Low Blow, the Kelly Rossum Quartet, Bryan Nichols' Quintet and Trio, Fat Kid Wednesdays, Alpha Consumer, The Pines, and brother Chris Bates' Red Five. JT often appears on the Icehouse stage with such musicians as Chris Bates, Dave King, Brandon Wozniak, Adam Linz and more. Noted Richard Brody in The New Yorker, "In free rhythm, his shimmering cymbals recall Sunny Murray's work with Ayler; the tom-tom groove is like the one Ed Blackwell got with Coleman; and, when he plays on an ethereally introverted modernistic piece, he sounds like a one-man Art Ensemble of Chicago, ready to use anything for the right sound—chopsticks, chains, his hands, and even the nub of a drumstick, which he rubs on cymbals to make them whisper as if butterflies were beating their wings upon them."
Vieux Carré is located in the lower level of the Hamm Building at 408 St. Peter Street in downtown St. Paul. Early set at 6 pm, no cover. Prime time sets at 9 pm, $8 cash only. See full schedule at http://vieux-carre.com