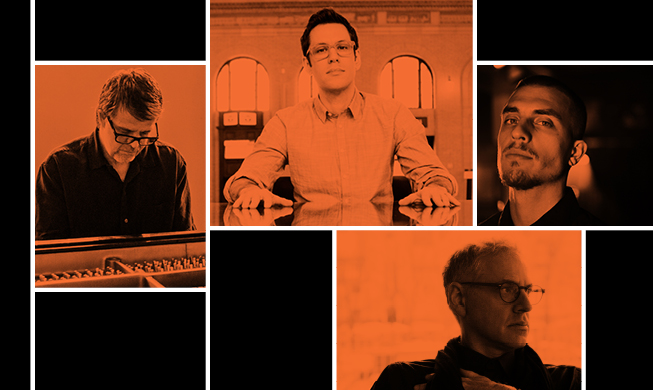 © Andrea Canter
Jeremy Walker's Jazz in the Target Atrium series continues on Friday, February 23 (8 pm) with a program saluting the "band in a box," dubbed "At the Piano." The concert features four of the metro area's top pianists/composers–Chris Lomheim, Bryan Nichols, Javier Santiago and Jeremy Walker– playing jazz classics and original music. The concert will be held in Orchestra Hall's intimate Target Atrium overlooking Peavy Plaza and Nicollet Mall.
The featured pianists represent two generations and four individual approaches to composition and the keyboard.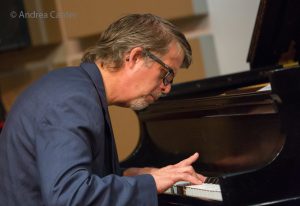 Chris Lomheim's first keyboard was the family organ, and as a child he studied both organ and piano in Minneapolis. He focused on R&B in the 1980s, playing with such bands as Big John Dickerson and Down Right Tight. Gaining a reputation as a composer as well as performer, he was featured at the West Bank School of Music Composer's Forum in 1991. A member of the acclaimed Illicit Sextet in the 1990s (and reunited in 2009), Lomheim has played and/or recorded with a long list of Twin Cities' musicians, including Gordy Johnson, Jay Epstein, Kelly Rossum, Dave Karr, and Reid Kennedy, and vocalists Debbie Duncan, Christine Rosholt, Patty Peterson, Lucia Newell, and Vicky Mountain. Jeremy Walker (Brilliant Corners, Jazz Is Now) called Lomheim "the most sensitive and romantic player you will hear around the Twin Cities' scene. He has prodigious piano technique and an individual ear for harmony." Chris has released three recordings as trio leader — And You've Been Waiting, The Bridge, and his latest (2014) Timelines. Still performing for Lobby Tea at the Saint Paul Hotel as he has since 1991, Chris and (usually) his trio have performed recently at the Black Dog, Vieux Carré, Studio Z, Jazz Central, and the Dunsmore Room; he also performs solo on alternating Tuesdays for the early sets at Vieux Carré and has appeared solo before and after concerts at Orchestra Hall.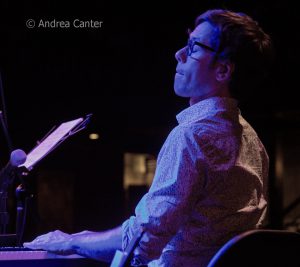 Twin Cities native Bryan Nichols studied classical piano with a "neighborhood piano teacher" but came to jazz on his own, developing his skills without formal jazz studies. After studying genetics in college ("which I've done absolutely nothing with, ever"), he moved to Chicago where he performed with Corey Wilkes, Nicole Mitchell, and Von Freeman among others. Back in the Twin Cities in 2005 after a stint in Betty Carter's Jazz Ahead program, Bryan quickly became a favorite pianist among the more forwarding-spinning jazz ensembles, working with Kelly Rossum, James Buckley, Zacc Harris, Jeremy Walker, and the Minneapolis/Chicago collective, City of Fiction. Over his career, Bryan has appeared at international festivals as well as at local and regional festivals such as the Chicago Jazz Festival, Minnesota Sur Seine Festival and Twin Cities Jazz Festival. In 2009, he received a grant from the American Composers Forum, and in 2010, a fellowship from the McKnight Foundation. Bryan has released two recordings —Bright Places in 2011 and his solo outing, Looking North, in 2016. He leads his trio and quintet, performs with Lars-Erik Larson's Mancrush, and is heard frequently at the Icehouse in duo with James Buckley and others. He's performed in the Target Atrium with the Atrium Jazz Ensemble in varying configurations. Recently Bryan recorded a live duo album with saxophonist Brandon Wozniak, to be released later this year.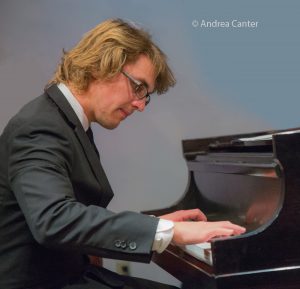 Another Minneapolis native, Javier Santiago comes by his musical bent honestly, the son of drummer Mac and vocalist Laurie Santiago, and grandson of Latin percussion master, the late Luis Santiago. Javi began studying piano at age 7, turning to jazz piano and trumpet at age 10, and playing with the bands in middle school and high school as well as the Minnesota Youth Jazz Band and the first edition of the Dakota Combo under the direction of Kelly Rossum. In 2006, Javi was awarded the Jane Matteson Scholarship at the Schubert Club/Dakota Foundation for Jazz Education Jazz Piano Competition; the following year he won the David Paulus Scholarship at the same competition. A former student of pianist Tanner Taylor, Javi was selected as a Fellow of the Brubeck Institute at the University of the Pacific after completing high school, where he attended for the maximum two years. During his two-year stint, the Brubeck Quintet was named Downbeat Magazine's college group of the year for two consecutive years. From Brubeck Javi moved on to complete his college studies at the New School for Jazz and Contemporary Music in New York, graduating in December 2011 after participating in the Betty Carter Jazz Ahead program at Kennedy Center earlier that year. Since returning to the Twin Cities, Javi has become a significant voice on the local jazz scene, performing  at Jazz Central, Black Dog, Icehouse, Crooners, and other venues as well as at the Twin Cities Jazz Festival. In 2015, he was a finalist in the American Jazz Piano Competition, winning the "Finalist in Competition Concert Award," and in 2016 he received a McKnight Musicians' Fellowship. Currently, in addition to his own ensembles, Javi performs with the Steve Kenny Quartet, The Ruckus led by Rodney Ruckus, and the Ted Olsen Quartet.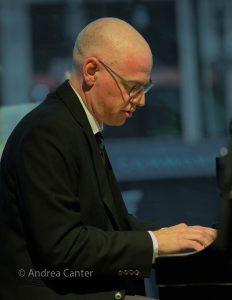 Jeremy Walker (aka "Boot"), also a Minneapolis native, started playing the saxophone at age ten, turning to jazz at age 14. After founding the short-lived Brilliant Corners club in 2003, he was named Best Local Impresario by City Pages; he also founded the nonprofit Jazz Is Now organization (and led its Nownet) and served as the first curator of the Dakota Late Night series. In 2005, when autoimmune disease (now diagnosed as Lyme Disease) interfered with the saxophone, Walker immersed himself in the piano, studying with David Berkman and Frank Kimbrough via a Jerome Foundation Grant, and turning more deeply to composing. Walker spread his wings, moving to New York in 2009 where he quickly became an active participant in the jazz scene and explored new collaborations. He returned to the Twin Cities in 2012 to be closer to his son, but has maintained his Big Apple connections.  With Duke Ellington as his key influence since his teens, Walker also notes that he admires Andrew Hill and Thelonious Monk. Walker has lead several ensembles in the Twin Cities and beyond, including Small City Trio, Boxcar, Bootet, and Boot Camp, in addition to the Atrium Jazz Ensemble. Jeremy's recent works include scoring Photographic Justice: The Corky Lee Story (release date 2013), 7 Psalms, which has been performed at Bethel University and Orchestra Hall, and (with Anthony Cox), Rage of Achilles, which was performed during the second season of Jazz in the Target Atrium.  Jeremy launched Jazz in the Target Atrium series in late 2014, now in its fourth season.
"At the Piano" will be performed in the Target Atrium of Orchestra Hall at 1111 Nicollet Mall in downtown Minneapolis. Ticket availability is limited — visit http://www.minnesotaorchestra.org/buy/tickets/browse-calendar/eventdetail/1008/-/at-the-piano. The final Jazz in the Target Atrium concert of the season will take place on April 13, featuring vocalist Bruce Henry.