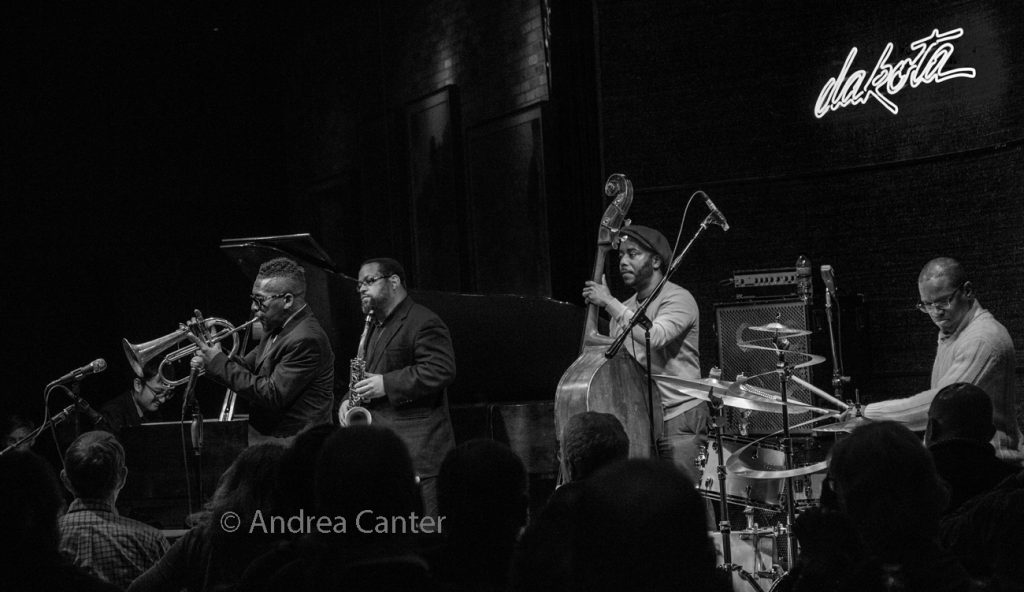 © Andrea Canter
"There's a physical electricity to Hargrove's performance that is not terribly common in jazz." –David Adler
"His contributions help tie jazz to hip-hop and R&B, reinforcing the perception that jazz is, perhaps, America's last truly adventurous musical genre, one capable of addressing what is transpiring in the present while also honoring what has come before." -Preston Jones, Observer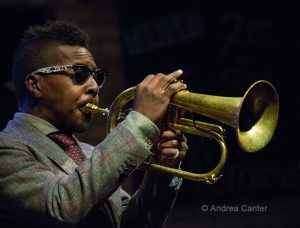 After Wynton Marsalis, Roy Hargrove is probably the best known trumpeter on the planet today. His fusiony project, RH Factor, created a lot of buzz by merging R&B and hip-hop mainstream with jazz, but his past and current efforts are decidedly more Dizzy than Ice-T. NPR stated that, "when he's on the road touring with his quintet, he's treating audiences to some of the greatest, hardest-swinging bebop in the world." And as noted by Christopher Jones following a Hargrove Quintet performance in Seattle, this is "straightforward, no-nonsense modern jazz…with integrity and conviction." Hargrove brings that conviction – along with his quintet—to the Dakota in Minneapolis for his annual engagement, January 16-17. Each time Roy takes the stage here, it proves to be one of the most exciting gigs of the year.
Inspired by gospel, R&B and funk while growing up in Waco, Texas, Hargrove was a trumpet prodigy, already working with Frank Morgan and "discovered" by Wynton Marsalis before he finished high school at the Booker T. Washington School for the Performing Arts in Dallas. Later he dropped his studies at Berklee in Boston to move to New York, enroll at the New School, and concentrate on his career as leader, sideman and major label recording artist. In addition to the funky RH Factor, he has explored Afro Cuban rhythms, pop, and above all, eclectic, straight ahead jazz, in the highly acclaimed company of Herbie Hancock and Michael Brecker and the Dizzy Gillespie All Star Band, as well as with his own Quintet. The Roy Hargrove Quintet released Nothing Serious on Verve in 2006 and the aptly titled Ear Food in 2008. In 2009, Roy gathered a big band for the highly praised Emergence (Groovin High). Roy has received two Grammy Awards to date: His Cuban-based band Crisol (with piano legend Jesus "Chucho" Valdes and drummer Horatio "El Negro" Hernandez) won the Best Latin Jazz Performance Grammy in 1997, and Directions in Music (with Herbie Hancock and Michael Brecker) won Best Instrumental Jazz Album in 2002. After 14 albums as leader, Roy has taken a long break from recording his own projects, but remains prolific in performing and appearing as guest artist.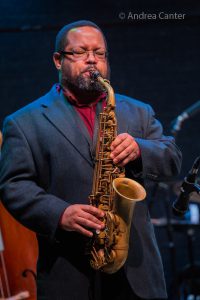 The Roy Hargrove Quintet includes Justin Robinson (reeds), Tadataka Unno (piano), Ameen Saleem (bass), and Quincy Phillips (drums), a high energy, interactive, soulful collaboration: Alto saxophonist Justin Robinson is a native of Manhattan and graduate of LaGuardia High School of Music and Arts. Influenced by Charlie Parker and Jackie McLean, he has worked the Harper Brothers, Cecil Brooks III, Abbey Lincoln, Diana Ross, Jimmy Scott, the Carnegie Hall Jazz Band and The Dizzy Gillespie All Star Band, in addition to the Roy Hargrove Big Band Quintet. A native of Japan, Tadataka Unno attended Tokyo University for Music and Fine Arts and spent the first10 years of his career in Japan. Moving to the U.S., he was selected to attend Betty Carter's Jazz Ahead in 2010 and also attended the Jazz Rising Stars Program of the Ravinia Festival in Chicago that year. Currently, he is a member of the Jimmy Cobb Trio, Roy Hargrove Quintet, Winard Harper and Jeli Posse, Clifton Anderson Quartet, and Eddie Allen's "Push".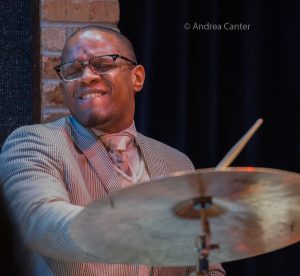 Bassist Ameen Saleem is originally from Washington DC where he attended the Ellington School of the arts. He went on to earn degrees in music performance from North Carolina Central University and CUNY Queens College in New York. Baltimore-based drummer Quincy Phillips attended Howard University, and continues to play in the Baltimore/DC area (when not on the road with Roy Hargrove), where he leads his ensemble Young Lions and is known as the "Genius of U Street."
Hargrove is one of the all-too-rare jazz artists of his generation who never fails to deliver the goods at full throttle, regardless of the audience or venue. His current quintet embodies all of the elements that make live jazz live and irreplaceable regardless of technology—they play in the moment, and each moment as if it was the only moment in time. This IS something serious! Catch their "earfood" at the Dakota on January 16  or 17.
The Dakota is located at 1010 Nicollet Mall in downtown Minneapolis. Two sets per night at 7 and 9:00 pm; www.dakotacooks.com