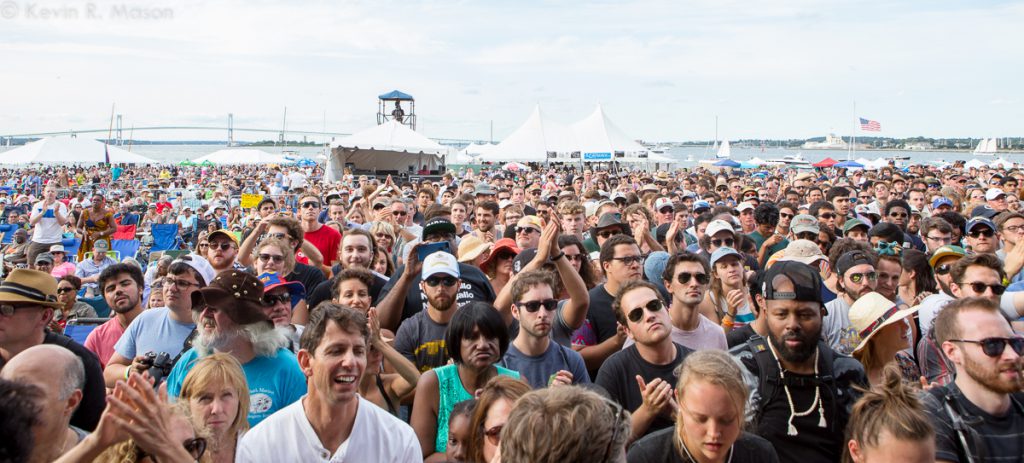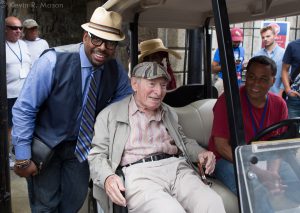 The 2017 Newport Jazz Festival, presented by Natixis Global Asset Management, took place from August 4 to 6, with daytime concerts at Fort Adams State Park and a Friday evening show at the International Tennis Hall of Fame at the Newport Casino. Newport Jazz Festival (NJF) founder George Wein and newly appointed Artistic Director Christian McBride presented a line-up that honors the history and legacy of jazz by including living legends, established stars, and up-and-coming artists who are the future of jazz.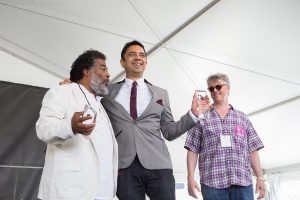 There were so many choices, with a line-up that included HUDSON; Joey DeFrancesco + The People; Vijay Iyer and Wadada Leo Smith (who received the Best Duo of the Year Award from the Jazz Journalists Association at their set); Amir ElSaffar's Rivers of Sound; Theo Crocker; Cyrus Chestnut Trio; Cyrille Aimée; Orrin Evans; David Torkanowsky; Henry Threadgill; and more. There was something for everyone!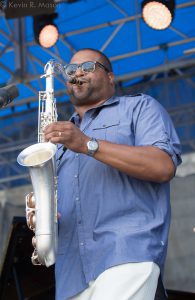 Friday August 4th
The Jimmy Greene Quartet. Saxophonist Jimmy Greene, bassist Ben Williams, pianist Kevin Hays, and drummer Otis Brown III, nicknamed "OB3," played songs from the CDs Beautiful Life and the follow-up, Flowers: Beautiful Life, Volume 2, including "Flowers" and "Second Breakfast." Both CDs were created to honor Greene's daughter, Ana, whose young life was tragically cut short at the Sandy Hook Elementary School massacre. Jimmy spoke of Ana with such loving remembrance, and got a knowing laugh after explaining "Stink Thumb" was inspired by the smell of a toddler's thumb after a long day of playing and thumb-sucking. Jimmy praised everyone who gave his family such wonderful support in the aftermath of the loss of his beloved child. Kurt Elling beautifully sung "Ana's Way" on the first CD, but Greene quipped, "You're not going to hear me sing it, because you'd probably pack up and go away! But I'll play it as best I can." It was exquisitely plaintive, even without the singing. Jimmy loves coming to Newport, which he considers "The Big One," and thanked George Wein and Christian McBride for having them there. The finale, "Thirty-Two," was dedicated to Ana's love for dance.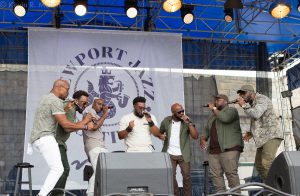 Naturally 7 is a gifted group of singers with a rich, harmonic sound that goes well beyond what you'd expect from an a capella group. It takes a moment to realize there are no instruments, just voices, because they imitate instruments in an extraordinarily credible and passionate way. In fact, they're so believable, the "drummer" had to demonstrate a vocal drum solo, because they always encounter people who are skeptical that their music is real. They did a gorgeous "The First Time Ever I saw Your Face," a cheekily entertaining "One Love," and a moving "Jericho." The group is based in New York, but three members were born in England to Jamaican parents, so it was very apt when they did a charming version of Sting's "Englishman in New York." The musicians, Roger Thomas, Warren Thomas, Rod Eldridge, Rickey Cort, Dwight Stewart, Garfield Buckley, and Kelvin Mitchell deftly mix many styles, including jazz, soul, reggae, and gospel, and their awe-inspiring set also included "Off the Wall" and "While My Guitar Gently Weeps."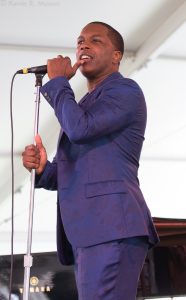 Leslie Odom Jr., Grammy- and Tony-Award-winning singer, fresh from the groundbreaking success of the Broadway musical Hamilton, performed songs from his self-titled CD (which went to Number 1 on the jazz charts), including "Joey, Joey, Joey," and a jazzed-up, Latin-tinged "Look for the Silver Lining." Leslie joked that he couldn't sing Hamilton songs too early, or the packed tent would soon be empty! Post Hamilton, Odom received numerous offers, but he wanted to play jazz festivals and make the kind of music Nat King Cole might be doing today. Accompanied by pianist Michael Mitchell, guitarist Steven Walker, percussionist Senufab Stoney, bassist Orlando Le Fleming, and drummer John Davis, Leslie did a Nat King Cole medley, including "Mona Lisa," "Straighten Up and Fly Right," "Unforgettable," and a deliciously syncopated "Falling Leaves." Despite one woman rudely yelling, "Stop talking and sing," his stories about portraying Aaron Burr, knowing when to leave the show, and his post-Hamilton experiences were highly appreciated by the audience. Leslie showed the vocals and charisma that made him a star, especially on the famous Hamilton song, "The Room Where It Happens."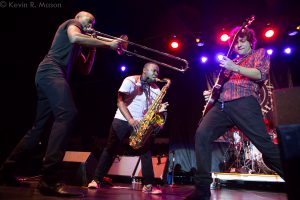 Trombone Shorty & Orleans Avenue and Rhiannon Giddens played a fabulous Friday evening concert at the International Tennis Hall of Fame. The only problem was that new security checkpoints made it take twice as long as usual to enter the venue. While it's understandable to be concerned with safety these days, they didn't accurately anticipate the time to navigate the checkpoints, and many people didn't get to their seats until Rhiannon Giddens' opening set was almost over. Although patrons weren't happy about the delay, hearing Rhiannon passionately sing the Staple Singers' "Freedom Highway" was some consolation. Hopefully, all the security kinks will be worked out next year. Luckily, Trombone Shorty and his crew, baritone saxophonist Dan Oestreicher, tenor saxophonist BK Jackson, guitarist Pete Murano, bassist Mike Bass-Bailey, and drummer Joey Peebles, came out with their customary high energy and played "Craziest Things," and "On Your Way Down." Trombone Shorty did a scat homage to Louis Armstrong during "On the Sunny Side of the Street," and displayed extraordinary circular breathing technique on trumpet, holding a note for several minutes. The crowd, young and old, danced throughout the show, especially on the James Brown-style samples of "Baby, Baby, Baby" and "Get On Up." The band ended with the funkiest version imaginable of "When the Saints Go Marching In." Despite the security kerfuffle, Trombone Shorty and Orleans Avenue gave a standout concert worth attending!
Saturday, August 5th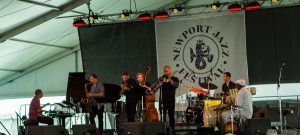 Jazz 100: The Music of Dizzy, Mongo, and Monk, featured pianist Danilo Pérez, saxophonist Chris Potter, trumpeter Avishai Cohen, trombonist Josh Roseman, percussionist/vocalist Roman Diaz, bassist Ben Street, and drummer Adam Cruz, performing in tribute to the 100th anniversary of the birthdays of Dizzy Gillespie, Mongo Santamaria, and Thelonious Monk. Danilo described Dizzy as a great humanitarian who uplifted people through music, and there was abundant praise for all the honorees. Excellent solo work was displayed throughout, and Mongo's section highlighted Josh Roseman. Monk's "Off Minor" showed off all the musicians' talent. Roman Diaz discussed jazz's African and Latin influences, and involved the audience in a call-and-response on Quincy Jones' composition  for Dizzy Gillespie, "Jessica's Date." This was the group's last gig this year, and Danilo Pérez said it had been gratifying, both musically and personally, hanging out together.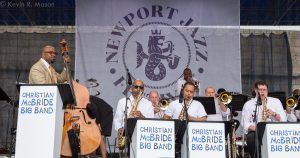 The Christian McBride Big Band had a scorching show where bassist Christian McBride was introduced as "the hardest-working man in jazz," and it's no exaggeration. In addition to his thriving performing/recording career, he serves on several festival boards, and is Artistic Director of NJF. McBride was backed by vibraphonist Warren Wolf; pianist Christian Sands; trumpeters Sean Jones, Frank Greene, Nabate Isles, and Brandon Lee; saxophonists Braxton Cook, Todd Bashore, Ron Blake, Dan Pratt, and Carl Maraghi; trombonists Steve Davis, Michael Dease, James Burton, and Douglas Purviance; and drummer Quincy Phillips. The band played two James Brown-inspired compositions, "Gettin' to It" and "Brother Mister," and McBride said James Brown "looms large in my life." He also expressed love for greasy, rich soul food, and said he likes some grease in his jazz. "If you can't eat it, at least you can put it in the music!" Christian let every musician shine, and the band tore it up on his "Youthful Bliss." Joe Henderson's "Black Narcissus," spotlighted Ron Blake and Christian Sands, and Warren Wolf gave strong support on a Cedar Walton dedication, "The Shade of the Cedar Tree." McBride introduced "Black Messiah (Part 2)" by George Duke, who he called "Papa Duke" and considered a second father. Although the upbeat finale was titled "In a Hurry," the audience was in no hurry for this show to end.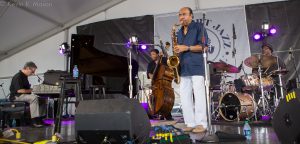 The Benny Golson Quartet's show at Harbor Stage was packed with people anxiously awaiting Golson, one of two living icons, with fellow saxophonist Sonny Rollins, from the legendary photograph, "A Great Day in Harlem." Benny got a big laugh when he said, "My wife said I talk too much, but she's not here!" His anecdotes were fascinating oral history, and he recalled that as a young musician, an elder comrade advised making whatever he did on stage look hard, so people would appreciate it more. Luckily, Benny ignored that advice, because he has a wonderfully natural ease from years of polishing his chops. He discussed composing a song in 20 minutes, but thought, "Nobody writes a song in 20 minutes. It can't be worth anything." However, Dizzy Gillespie liked it, and they recorded "Whisper Not." It tickled Golson that critics speculated and pontificated for years about the title's meaning. On a more serious note, he recalled how the musicians cried at the Apollo Theater after hearing that trumpeter Clifford Brown had died, which inspired him to write, "I Remember Clifford." Golson was surprised that the song has been recorded hundreds of times, noting that you never know about any composition. He introduced "Stablemates" as the recording where Miles Davis put him on the map. With bandmates, drummer Carl Allen, bassist Buster Williams, and pianist Mike LeDonne, Benny Golson's set was one of the highlights of the 2017 NJF.
Sunday, August 6th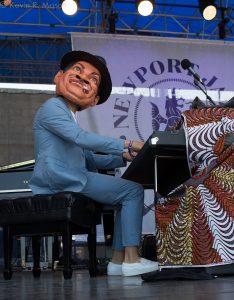 Jason Moran: Fats Waller Dance Party began with "Honeysuckle Rose," "Lulu's Back in Town," and "Ain't Misbehaving." Throughout the show, pianist Jason Moran put on a gigantic papier-mâché head of Fats Waller, and the effect was astounding! The head is a work of art that's both comical and somewhat alarming, like the thrill you get from a scary movie. Although Jason is slim, he really channels Fats Waller. Lisa Harris was a ball of energy, singing and dancing up a storm, electric bassist Tarus Mateen and drummer Charles Haynes lent fine support on "Yacht Club Swing" and "Fat Lick," and trumpeter/singer Leron Thomas contributed wonderful vocals on "Two Sleepy People." Moran divulged the surprising fact that despite his demeanor, Waller suffered from depression, yet managed a flourishing career. Introducing "Lonely Woman," Jason said he imagines a collaboration between Waller and Ornette Coleman, with Fats' rhythm and Ornette's free jazz. A somber "Ain't Nobody's Business" was the rare ballad, because it really was a party: surreal, funky, and delightfully original.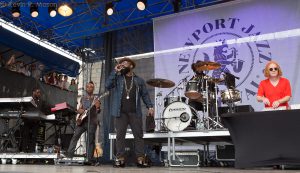 The Roots were introduced by Christian McBride, some of whom were his high-school friends, as "some of the baddest cats to come out of Philly!" Their music defies easy categorization, with sousaphone solos, rap, and jazz riffs in the mix. Drummer Ahmir "Questlove" Thompson, MC Tariq "Black Thought" Trotter, Damon "Tuba" Gooding Jr." Bryson on sousaphone, bassist Mark Kelley, guitarist/vocalist Kirk "Cap'n Kirk" Douglas, keyboardist Ray Angry, pianist/keyboardist James Poyser, trumpeter Dave Guy, flutist Ian "Chief" Hendrickson-Smith, DJ Jeremy Ellis on MPC finger drum/beats, and Stro Elliot on percussion/beats revved up the crowd with out-of-this-world energy and outstanding musicality on "Me and My Baby Brother," "I Know You Got Soul" "Break You Off," "Clones," and "Please Don't Go." When they played snippets from "Jungle Boogie" and the theme from "Rocky," the crowd went wild! This was NJF's closing concert, and although it lasted at least 30 minutes beyond the scheduled time, The Roots' music was so riveting, there was a noticeable absence of people leaving early to beat the crowd.
Short Takes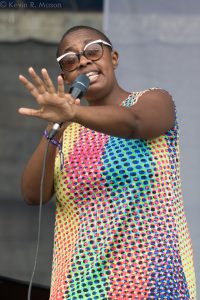 Cécile McLorin Salvant started with a wistfully dreamy "Isn't it Romantic?" then the hilariously acerbic "Everything I Have Belongs to You." She followed with "Devil May Care" from her CD, Dreams and Daggers, with excellent backing from pianist Aaron Diehl, drummer Lawrence Leathers, and bassist Paul Sikivie. Cécile performed "Sophisticated Lady," and a swinging "Wives and Lovers" that got people dancing spontaneously. The concert continued with "I'm All Smiles," "It's Magic," "Black, Brown, and White," and the tragic fable, "John Henry." Not every singer can both soar and whisper, but exceptional vocalist/storyteller Cécile McLorin Salvant does!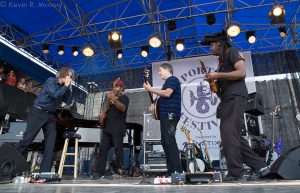 Béla Fleck and the Flecktones gave an energetic rock-infused jazz and blues concert, with  Béla Fleck on banjo, drumitarist Roy "Futureman" Wooten, Howard Levy on harmonica/piano, and bass guitarist Victor Wooten. Howard did a beautiful solo during "Jesu Joy of Man's Desiring," then the group segued into the bluegrass "Big Country." Béla said it was great to be at Newport with the original Flecktones. The versatile musicians played "Blu-Bop," "Flying Saucer Dudes," and "New South Africa," written when Nelson Mandela was the newly elected president. The encore was the droll "Flight of the Cosmic Hippo," with enthusiastic audience participation.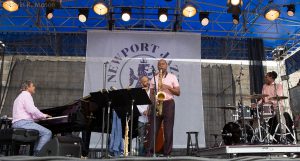 The Branford Marsalis Quartet had one of NJF's most heavily attended sets. If an outdoor venue could be called sold-out, this certainly was, since the Fort Stage area was filled to capacity. Saxophonist/composer Branford Marsalis and his band members, pianist Joey Calderazzo, bassist Eric Revis, and drummer Kobie Watkins, really brought it on "Mango," "A Thousand Autumns," "Cheek to Cheek," and Thelonious Monk's "Tio."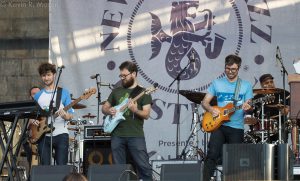 Snarky Puppy's high-energy kept the audience engaged until the end of Saturday's last set.  Multi-instrumentalist Michael League's Grammy Award-winning group, keyboardist/trumpeter Justin Stanton, trumpeter Mike "Maz" Maher, saxophonist/flutist Chris Bullock, guitarist Chris McQueen, percussionist Nate Werth, drummer Jason "JT" Thomas, and keyboardists Shaun Martin and Bobby Sparks, played songs that included "Beep Box," "Grown Folks," "Tarova," and "Gemini," from their CD, Culcha Vulcha.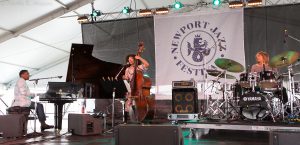 Flying Toward the Sound: For Geri, With Love, paid tribute to beloved, Guggenheim-Award-winning pianist Geri Allen, featuring percussionist Terri Lyne Carrington, pianists Vijay Iyer, Jason Moran, and Christian Sands, and bassist Esperanza Spalding, who started with a powerful vocal solo reminiscent of an elegiac chant. Originally, the concert was scheduled as a trio of Terri, Esperanza, and Geri, but due to Ms. Allen's untimely passing in June, the show became a lovely remembrance, spotlighting Geri's compositions "Unconditional Love," "Feed the Fire," and "A Beautiful Friendship." George Wein stated, "Geri was a beautiful person whose impact on the music she loved will last forever. She was a unique artist, dedicated to the rights of men and women. She cannot be replaced. I'm glad to have known her for so many years."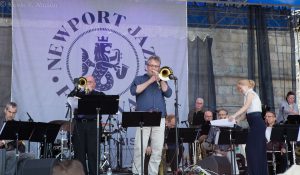 The Maria Schneider Orchestra, including saxophonist Scott Robinson, trombonist Marshall Gilkes, and trumpeter Nadje Noordhuis, beautifully performed "That Old Black Magic" "Data Lords" and "All Night, in Gusty Winds." Activist Schneider dedicated "The Monarch and the Milkweed" to everyone who lets milkweed grow wild in their gardens, helping the endangered Monarch Butterfly. The eerily foreboding "Do No Evil" warned about technological threats to humanity. Their finale changed gears on a hopeful song about peace, "Sanzenin," with a stellar solo by tenor saxophonist Donny McCaslin.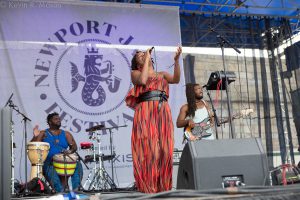 Bokanté was moved to the Fort Stage to fill in for the ailing Andra Day, and the group gave a show that stirred all the senses on "Ola," "Sew," and "Roudesann." Multi-instrumentalist Michael League of Snarky Puppy joined Malika Tirolien, whose exceptional vocals added greatly to the multicultural/multilingual group: percussionists Jamey Haddad, Keita Ogawa, and André Ferrari; and guitarists Roosevelt Collier, Bob Lanzetti, and Chris McQueen.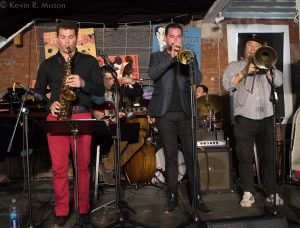 Newport Jazz Assembly Band's swinging set at Storyville was one of the weekend's high points, exhibiting outstanding virtuosity by the young septet: clarinetist/saxophonist Ben Marcoux, trumpeter/cornetist Joshua Bruneau, trombonist Jimmy O'Connell, guitarist Tony Davis, pianist Noah Barker, bassist Alex Tremblay, and drummer Mike Camacho. The show featured compositions by group members, including Tremblay's "Sol Selegna," Barker's "Lost at Home," Davis' "Braeburn," and tributes to saxophonist Jackie McLean on his post-bop "Song for My Queen" and smoking bebop on "Bird Lives."
Next year's NJF will be held August 3–5, 2018, and it's sure to be another great musical event. Flex tickets are back for 2018 Newport Jazz Festival! Jazz fans around the world are invited to be the first to purchase tickets at a great discount. The sale begins at November 1 at 10:00 am. For more information, go to www.newportjazz.org.