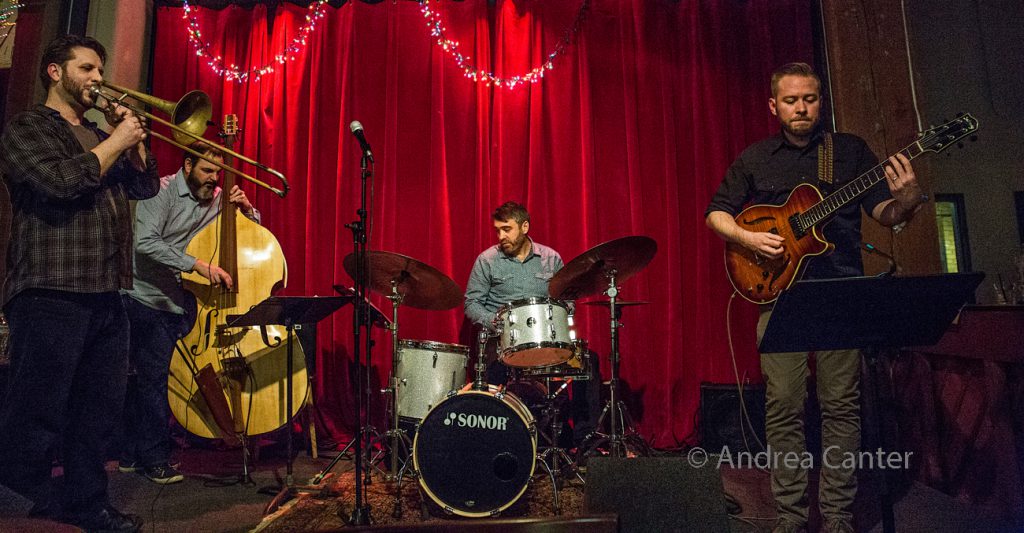 © Andrea Canter
Well into its third year of weekly jazz performances, Saturday Night Jazz at the Black Dog brings back the JC Sanford Quartet and a new trio of veterans, Trio 280 on September 30.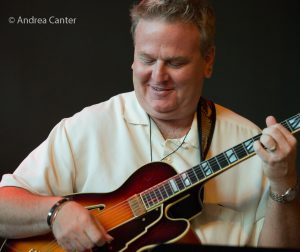 Trio 280 (7 pm)
Guitarist Joel Shapira (Bottomless Pit, Charmin & Shapira) joins forces with organ master Wes Roulle and drummer Eron Woods (King Fletcher Woods, Overtones Trio) in this new configuration.
JC Sanford Quartet (8:30 pm)
Minnesota native, trombonist/composer/conductor JC Sanford headed to New York after completing graduate studies at the New England Conservatory, figuring he would stay a year or two. In summer 2016, sixteen years later, Sanford moved his family back to the Midwest, settling in Northfield just in time to celebrate the release of his New York quartet's CD, Can You Believe It? After his East Coast release at Shapeshifter Lab in New York, he returned to Minnesota and celebrated at the Icehouse with his Minnesota quartet in January, and in March debuted at the Black Dog. Now JC brings his music, and his quartet with Zacc Harris, Chris Bates and JT Bates, back to the Black Dog.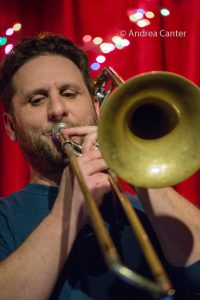 A protégé of legendary composer Bob Brookmeyer, trombonist JC Sanford studied at the University of Northern Iowa and completed doctoral studies at the New England Conservatory. Moving to New York in 2000, he became involved with the BMI Jazz Composers Workshop under the direction of Manny Albam and Jim McNeely and remained trombonist/contractor of the BMI/New York Jazz Orchestra until 2016. He has also appeared as a trombonist on recordings with such diverse bands as Andrew Green's Narrow Margin, the Andrew Rathbun Large Ensemble, Nathan Parker Smith's jazz/prog rock big band, and Joseph C. Phillips, Jr.'s new music/jazz hybrid orchestra, Numinous.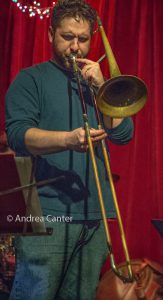 JC's compositions have been performed by leading artists such as John Abercrombie and Dave Liebman and he has built a reputation as conductor of large ensembles, including the John Hollenbeck Large Ensemble, Alan Ferber Nonet, Alice Coltrane Orchestra and his own JC Sanford Orchestra. The JC Sanford Orchestra's album, Views from the Inside, received worldwide acclaim as well as a coveted recording grant from the Aaron Copland Foundation. JC also wrote, performed and conducted a score to accompany the 143-minute 1927 silent classic  Ben Hur for the Syracuse International Film Festival, including the film theme "Forest Hills" which now appears on Can You Believe It. He also curated a weekly large ensemble series ("Size Matters") at the Tea Lounge in Brooklyn in addition to leading his orchestra, quartet and trio.
Of his return to the Midwest, JC notes that "We have a 2-year-old daughter and I went to school in Northfield, and my mom still lives there. New York kind of wore us out, and so we decided we're going to go somewhere, and that seemed like a really good option. I had a few connections to the Twin Cities music scene. It just seemed like the natural thing to do."  And he's wasted no time jumping into the local jazz scene, adding his trombone to Chris Bates' Red 5, performing with his quartet, and launching a Minnesota edition of his trio, Triocracy.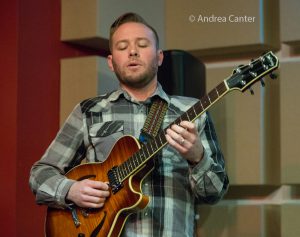 A native of southern California, Zacc Harris came to Minneapolis about ten years ago from Illinois, where he graduated from Southern Illinois University. Here he formed the Luminessence Trio (now Zacc Harris Trio), continuing weekly gigs at the Riverview Wine Bar. Zacc also leads his Quartet, Atlantis Quartet, Vital Organ, the Zacc Harris Group, and American Reverie; performs regularly with Dean Granros' Tall Tales, the Babatunde Lea Quartet, and Adam Meckler Quintet, and teaches at Hamline University as well as private guitar lessons. He's also curated the Jazz at Studio Z series for five seasons.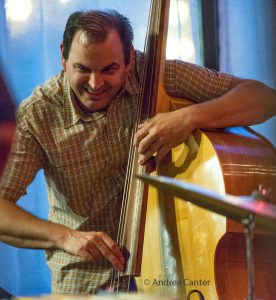 Chris Bates and his brother, drummer JT, grew up with jazz, sons of trumpeter/bandleader Don Bates. He began bass lessons in 4th grade and progressed to jazz studies at the University of Wisconsin-Eau Claire before returning to the Twin Cities to study with Anthony Cox. A member of the 1990s ensemble, the Motion Poets, Chris was a 1999 McKnight Composer Fellow and in 2014 was awarded a commission from local new music ensemble Zeitgeist. He often lends his compositions to the many ensembles that he juggles throughout his busy performance schedule–including the Atlantis Quartet, Framework, Leisure Valley, Tall Tales, Red Planet, and his own Good Vibes Trio and Chris Bates' Red Five. He also curates an new music night monthly at Jazz Central Studios.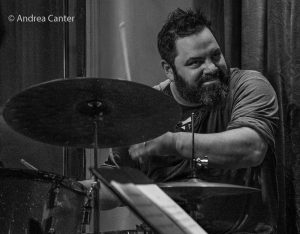 J.T. Bates is one of the busiest drummers in the Twin Cities, on and off the bandstand. He was a member of Motion Poets and has worked with a variety of Latin, electronic, and experimental ensembles, including Bryan Nichols' Quintet and Trio, Chris Bates' Red Five, Fat Kid Wednesdays, the Zacc Harris Group, and The Pines. In addition to curating his Jazz Implosion series at the Icehouse on Monday nights, JT leads the organ trio Grain and often appears on the Icehouse stage with such musicians as brother Chris, Dave King, Brandon Wozniak and more.
Saturday Night Jazz at the Black Dog is curated by Steve Kenny and is held every Saturday night at 308 E. Prince Street in the Northern Warehouse in Lowertown, St Paul. No cover but donations to the tip jar ($10 suggested) are appreciated to support the artists and the series. Full schedule at www.saturdaynightjazzattheblackdog.info. Full bar and dining service at the Black Dog and music every night — www.blackdogstpaul.com