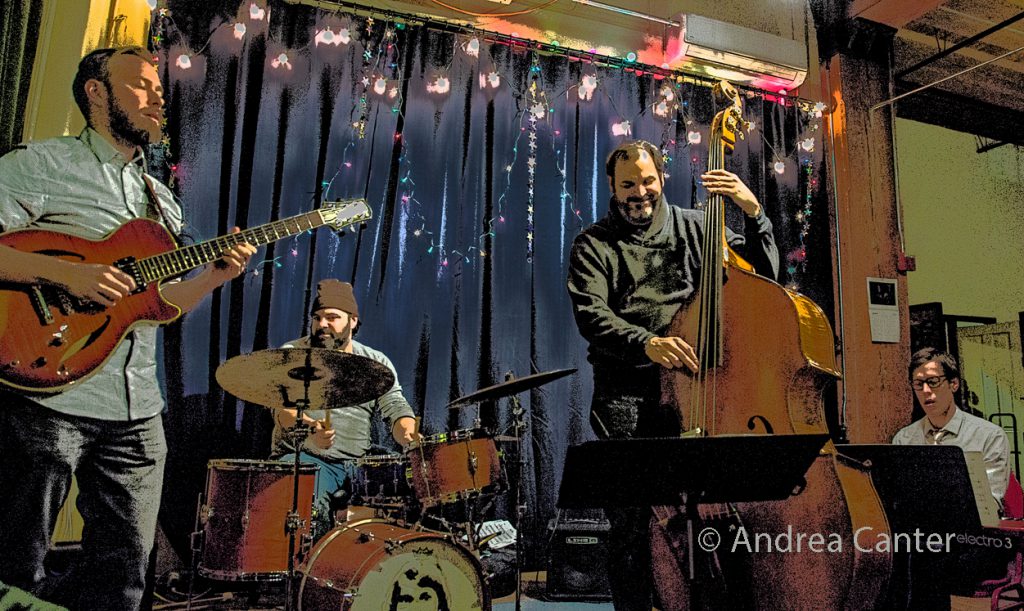 © Andrea Canter
One of the busiest jazz musicians in the Twin Cities, guitarist Zacc Harris is a man of many ensembles, heading the Atlantis Quartet, Zacc Harris Trio and Quartet, American Reverie, and lending his strings to Tall Tales, Grain, and more. About five years ago, Harris added the Zacc Harris Group to his list of projects, bringing together pianist Bryan Nichols and the brothers Bates, bassist Chris and drummer JT. The Zacc Harris Group returns to Thursday Night Jazz at Reverie on June 1 at 9 pm.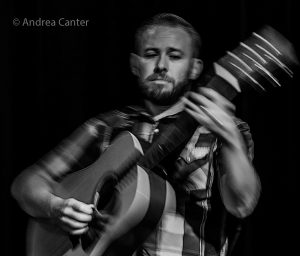 Zacc Harris came to Minneapolis about ten years ago from Illinois, where he graduated from Southern Illinois University. Here he formed the Luminessence Trio (now Zacc Harris Trio), continuing their long-running Sunday night gig at the Riverview Wine Bar. In addition to his many projects as bandleader, Zacc performs frequently with Brandon Wozniak, Adam Meckler and Babatunde Lea, and is often on stage at Jazz Central Studios, the Black Dog, Vieux Carré, and Studio Z, where he has curated Jazz at Studio Z for five seasons.  Zacc is also dedicated to teaching; he is an adjunct faculty at Hamline University and has taught guitar privately for the past 15 years.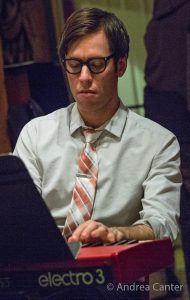 Pianist Bryan Nichols returned to his native Minnesota after studies at Iowa State and gigging in Chicago. A member of the 2004 edition of Betty Carter's Jazz Ahead ("Jazz Stars of Tomorrow"), he performed at Kennedy Center in Washington, DC. He's played with Ari Brown, Maurice Brown, Von Freeman, and more, and has taught at the MacPhail Center for Music and the University of Wisconsin-Eau Claire. Locally Bryan is heard with his own trio, quintet and large ensemble, We Are Many; often performs on weekends at the Icehouse in duo with bassist James Buckley; is a member of the Atrium Jazz Ensemble led by Jeremy Walker; performs in Mancrush, led by Lars-Erik Larson; and appears with other innovative artists. Bryan was a 2010 recipient of a McKnight grant, released Bright Places in 2011, and released his solo recording, Looking North, in 2016.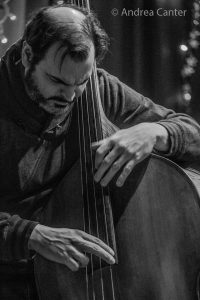 Bassist Chris Bates is familiar to Twin Cities' audiences through his ongoing associations with the How Birds Work, Dean Magraw's Red Planet, Framework, the Atlantis Quartet, Bill Simenson Orchestra, and many other cutting-edge ensembles and big bands, as well as his own bands, Red Five and Good Vibes Trio. Each of his bands released a well-received recording in the past few years – Red Five's New Hope, and the self-titled Good Vibes Trio. At Jazz Central Studios, Chris curates a monthly "new music" series. Chris studied at the University of Wisconsin–Eau Claire and later with Anthony Cox, was an original member of the Motion Poets, and a 1999 McKnight Composer Fellow.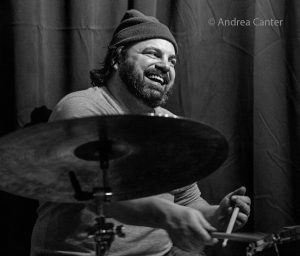 J.T. Bates is one of the busiest drummers in the Twin Cities, on and off the bandstand. He was a member of Motion Poets and has worked with a variety of Latin, electronic, and experimental ensembles, including Bryan Nichols' Quintet and Trio, Chris Bates' Red Five, Fat Kid Wednesdays, the Zacc Harris Group, and The Pines. About a year ago, JT launched a new project, a B-3 organ trio dubbed Grain. In addition to curating his Jazz Implosion series on Monday nights at the Icehouse, JT often appears on the Icehouse stage with such musicians as brother Chris, Dave King, Brandon Wozniak and more. Noted Richard Brody in The New Yorker, "In free rhythm, his shimmering cymbals recall Sunny Murray's work with Ayler; the tom-tom groove is like the one Ed Blackwell got with Coleman; and, when he plays on an ethereally introverted modernistic piece, he sounds like a one-man Art Ensemble of Chicago, ready to use anything for the right sound—chopsticks, chains, his hands, and even the nub of a drumstick, which he rubs on cymbals to make them whisper as if butterflies were beating their wings upon them."
Thursday Night Jazz at Reverie–1931 Nicollet Ave in Minneapolis–is a weekly jazz night curated by Steve Kenny. No cover but tips ($10 suggested) appreciated to support the musicians and the series. Schedule at www.thursdaynightjazzatreverie.info