Two bands offering atypical instrumentation and significantly imaginative music take the stage at Reverie on April 20 on the Thursday Night Jazz series curated by Steve Kenny. Leading off at 9 pm will be Fermentation, followed at approximately 10:30 by the duo Large Marge.
Fermentation (9 pm)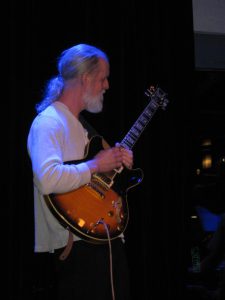 Fermentation is a collaborative Twin Cities ensemble playing mostly original tunes in the jazz tradition, while also "bringing "a number of different influences to bear for our joint sound." Tonight's band includes Dave Atchison on guitar, William Melton on bass and trombone, Armond Reginald Neal on flutes, and Ryan Billig on drums.  Notes Dave, "We've been playing regularly at the Seward Café and at the old Bedlam Theater for 6 years or so, and other places now and then. We finally have our first recording (almost) ready [and] enjoy each others' company muchly."
Large Marge (10:30 pm)
Large Marge is a duo, pairing bassist Josh Granowski and drummer Chris Hepola.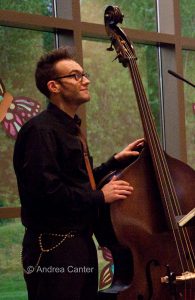 Josh Granowski started playing upright bass at age 11, soon following with bass guitar. As a teenager, he played classical etudes, punch/thrash/rock, and jazz. Today Josh is an active member of the Twin Cities improvisation and experimental music community, playing with the Bookhouse Trio, Davy Demons Trio, George Cartwright's Merciless Ghost, Painted Saints, Aby Wolf, Jon Davis, Amethyst Three, Patrick Harison, Peter Schimke, Davu Seru, Park Evans, Javier Matos, Tony Balluff, the Skruffians, and more. Notes Vieux Carre', Josh is a "first call in town for any group that swings."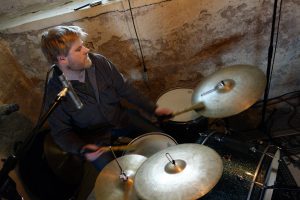 Chris Hepola is an in-demand drummer in the Twin Cities, performing in a wide range of ensembles playing jazz, pop, folk music, and much more. He's performed with Balkan brass band The Brass Messengers, folk-pop soundscape artists Painted Saints, and on keyboards with string ensemble The Poor Nobodys. He's also performed recently with James Buckley, Yellow Bellied Sapsuckers, and the Cactus Blossoms.
Thursday Night Jazz at Reverie takes place weekly at Reverie Bar at 1931 Nicollet Ave South in Minneapolis, just south of downtown. No cover but donations (tip jar) appreciated to support the musicians and the series.  Thursday night schedule at www.thursdaynightjazzatreverie.info