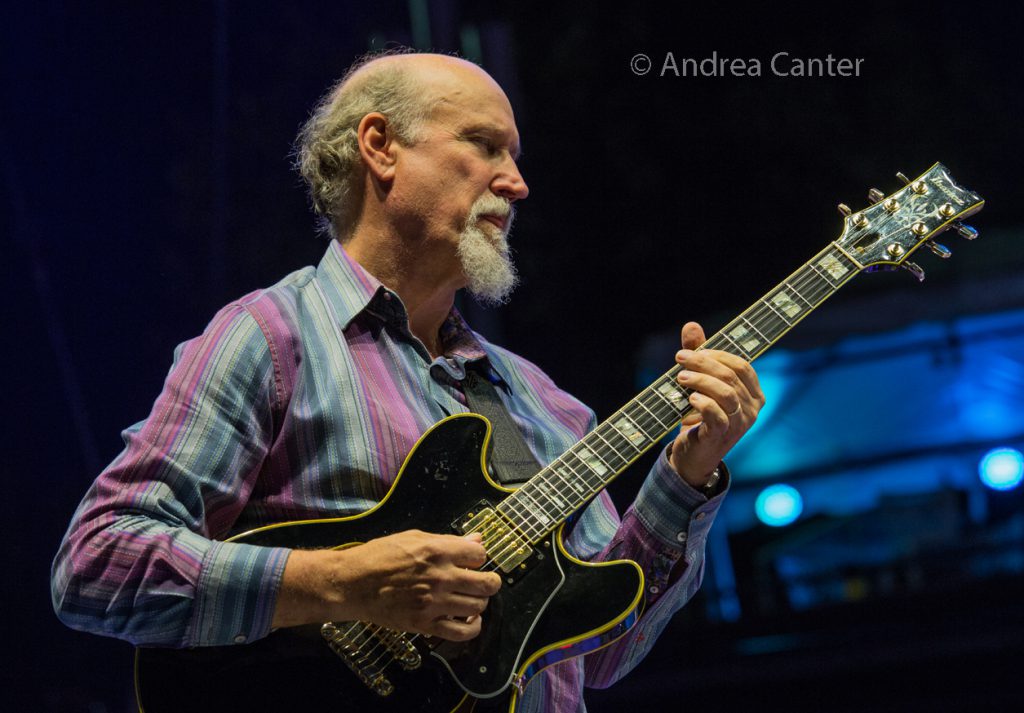 © Andrea Canter
"…not only does Scofield—playing better than he ever has—have plenty of surprises still up his sleeve, but …he may well be moving in a direction where the myriad of music he loves is now all fair game, all while still remaining firmly in the jazz sphere." –John Kelman, All About Jazz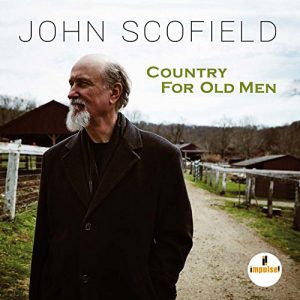 One of the working legends of modern jazz guitar (mentioned in the same breath with Pat Metheny, Bill Frisell and Mike Stern), John Scofield has enjoyed an eclectic career since his student days at Berklee in Boston. Known for his creative projects (including his Piety Street Band and Hollowbody Band), Scofield scored back-to-back Grammies for 2015 and 2016 recordings. A tribute to tribute to the country songs of American icons, including Hank Williams, Merle Haggard and Dolly Parton, "Country for Old Men" brings Scofield back to the Dakota for one night, 2 shows of string magic on Saturday, February 25, featuring Larry Goldings on keys, Vicente Archer on bass, and Bill Stewart on drums.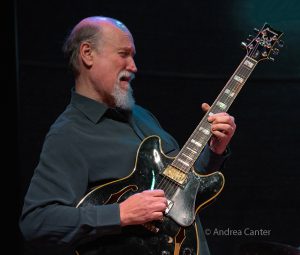 Born in Ohio and raised in suburban Connecticut, John Scofield started guitar at age 11, finding inspiration initially in the great rock and blues artists.  He went on to Berklee, and after his recording debut with Gerry Mulligan and Chet Baker, he joined the Billy Cobham-George Duke band for two years. In 1977 he recorded with Charles Mingus and began a tenure the Gary Burton quartet, moving on to work with Miles Davis  from1982-1985. By this time he had become a significant figure on the international jazz and funk-oriented electronic music scenes, as both a player and composer.  Some of his most distinctive collaborations have included  Pat Metheny, Charlie Haden, Eddie Harris, Medeski, Martin & Wood, Marc Johnson, Bill Frisell, Brad Mehldau, Mavis Staples, Government Mule, Jack DeJohnette, Joe Lovano, Tony Williams, Jim Hall, Ron Carter, Herbie Hancock, Joe Henderson, and Dave Holland. Touring the world approximately 200 days per year with his own groups, Scofield finds time to teach as an Adjunct Professor of Music at New York University.  In addition to his Piety Street Band, Hollowbody Band, and his acoustic quartet and trio, Scofield recently has toured with star saxophonist Joe Lovano (with whom he released the 2016 Grammy-winning quintet recording, Past Present). His most recent release, Country for Old Men, won 2017 Grammies for Best Jazz Album and Best Improvised Jazz Solo, and features Larry Goldings, Steve Swallow and Bill Stewart.
Grammy-nominated pianist, keyboardist, composer, and songwriter Larry Goldings has worked with such artists as James Taylor, Norah Jones, John Mayer, Madeleine Peyroux, Melody Gardot, Tracy Chapman, Ricki Lee Jones, Charlie Haden, Herbie Hancock, Elton John, and Leon Russell. In addition to 18 albums as leader, Larry has enjoyed collaborations with Maceo Parker, Jim Hall, Michael Brecker, and John Scofield. With Scofield and Jack DeJohnette, he received a 2007 Grammy nomination for Trio Beyond – Saudades (ECM), and his song (cowritten with Dannielle DeAndrea and David Batteau) "High Dreams" won the 2014 UK Songwriting Contest. Larry's most recent recording, Music From The Front Room, is a nontraditional piano trio outing, with Larry on Steinway upright piano, David Piltch on bass, and Jay Bellerose on drums.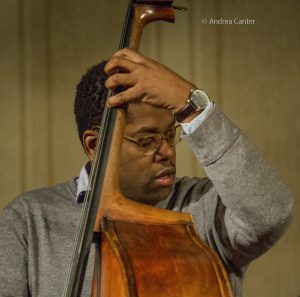 Born and raised in Woodstock, NY, Vicente Archer is one of the top bassists of his generation. Still in college, he joined Donald Harrison and Eric Reed on tour, and soon was working with the likes of Terence Blanchard, Kenny Garrett, Wynton Marsalis, Stanley Jordan, Stefon Harris and more. Currently he tours with Blue Note recording artists Amos Lee and Robert Glasper, as well as the Grammy Award-winning artist Nicholas Payton.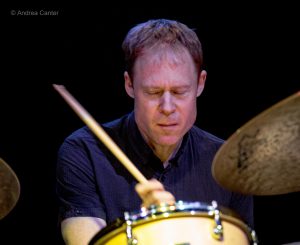 Growing up in Des Moines, IA, Bill Stewart  taught himself to play drums at age 7. He started college studies at the University of Northern Iowa, transferring after two years to William Paterson University. There he studied with Rufus Reid, Eliot Zigmund, David Samuels and Horacee Arnold, and worked with Joe Lovano. After moving to New York, Stewart worked with John Scofield's Quartet and in a trio with Larry Goldings and Peter Bernstein, moving into funk with Maceo Parker and a gig with the great James Brown. He has additionally played with Lee Konitz, Kevin Hayes, Michael Brecker, Pat Metheny, and Bill Carrothers, and has toured and recorded as leader of his own ensembles.
John Scofield's "Country for Old Men" quartet performs Saturday, February 25, at 7 and 9 pm at the Dakota, 1010 Nicollet Mall in downtown Minneapolis. Tickets and information at www.dakotacooks.com. See Jazz Police review of this band's recent show at SFJAZZ at http://bitnami-wordpress-7b91-ip.centralus.cloudapp.azure.com/archives/4156