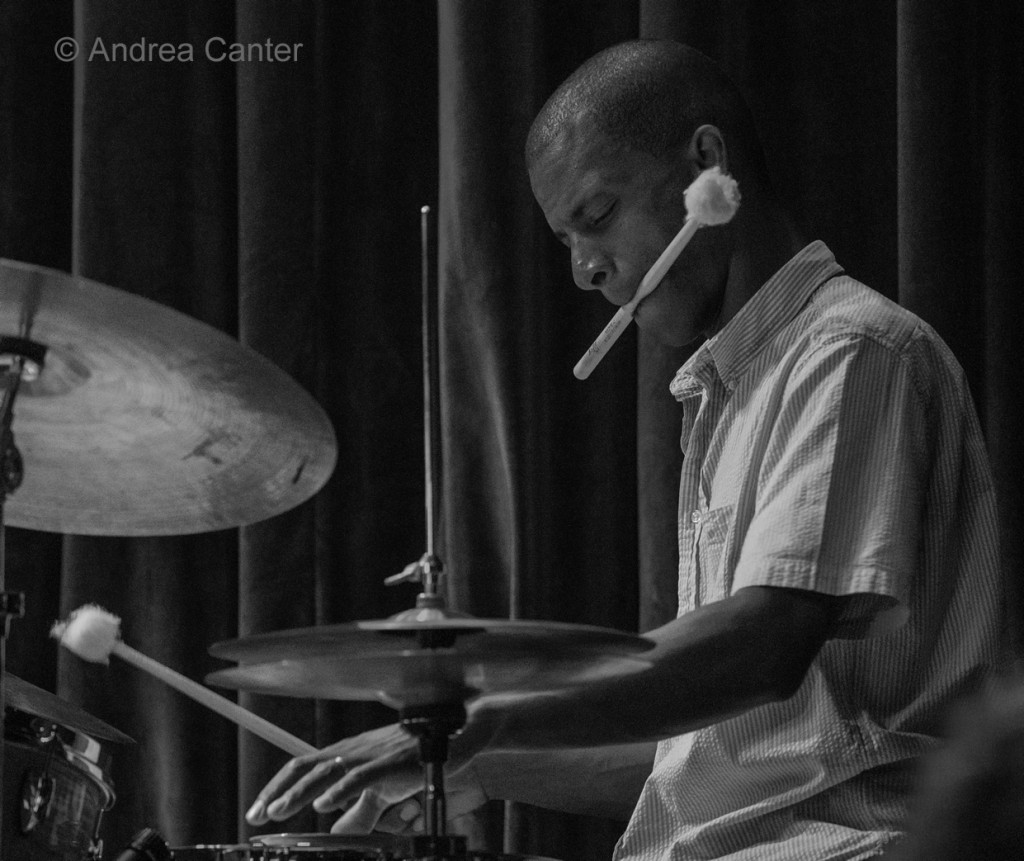 Curated now for three summer seasons by Twin Cities' jazz musician and impresario Steve Kenny, All Originals Jazz ends its 2016 series this Friday, September 30 at 7 pm at Studio Z in St. Paul with a unique double bill. Headlining the evening will be Davu Seru's New Territory Band, an ensemble he launched last spring at Reverie. In addition to Seru's percussion, the band includes Tyler Cessor on tenor sax, Cole Pulice on bari sax, Noah Ophoven-Baldwin on trumpet, and Levi Schwartzberg on vibes. Opening the evening will be Quo Vadis, a trio with violinist/violist Gary Schulte, pianist/mallet player Steve Kimmel, and cellist/bassist Greg Byers.
No Territory Band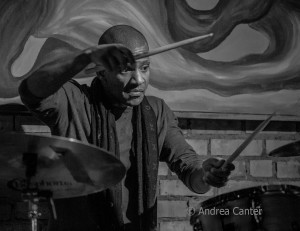 Respected internationally as a free jazz drummer as well as his performances in  jazz, rock and avant-garde improvised music, Davu Seru is known for his "big ears." His percussion style is notable for its attention to sound, silence and melodic line as much as rhythmic pattern. The Minneapolis native has worked in recent years with Milo Fine, Andrew Lafkas, Jaron Childs, Charles Gillett, Elliot Fine, Anthony Cox, Dean Granros, Douglas R. Ewart, Dean Magraw, Stefan Kac, James Buckley, Nicole Mitchell, and the band Take Acre.  He currently works in a trio with French clarinetist Catherine Delaunay and French bassist Guillaume Seguron, the bands Click Song (with Marc Anderson and pick-up band), KCOB Trio (with Casey O'Brien and Nathan Hanson), Merciless Ghost (with George Cartwright and Josh Granowski), and is co-leader with Mankwe Ndosi of The Mother of Masks, an improvising ensemble of poets, storytellers, activists and musicians. He co-leads First Tuesdays at the Black Dog with Dean Magraw, recently joined the composer-improviser collective orchestra, Cherry Spoon Collective, and joined J. Otis Powell and Kate Pehrson in a new project, the Nu Skein Ensemble. In addition to his musical pursuits, Davu is a PhD candidate in African American Literature at the University of Minnesota. In 2013 he received an American Composers Forum Minnesota Emerging Composer Award.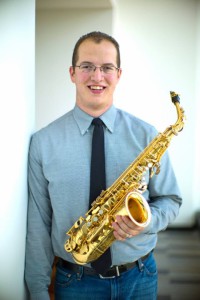 Tenor saxophonist Tyler Cessor is completing his doctorate at the University of Minnesota as a student of Eugene Rousseau, where he is developing a guide to "Creating Multicuiltural, Inclusive Learning Environments in Higher Education Music Programs."  Two years ago, he started Shifting Perspectives, a nonprofit addressing artistic, cultural and social diversity through a concert series encouraging collaboration among artists and organizations. Tyler has presented concerts at Schubert Club, Patrick's Cabaret, North Dakota State University and Truman State University. He has been on the faculty of the MacPhail Center for Music since 2014, teaching clarinet, flute, and saxophone. Previously he taught at Concordia College in St Paul.
Baritone sax specialist Cole Pulice, son of JazzMN drummer Joe Pulice, keeps busy in the Twin Cities with Black Market Brass, PaviElle, Sonny Knight and the Lakers, Al Church, Fall of the House of Usher, and more.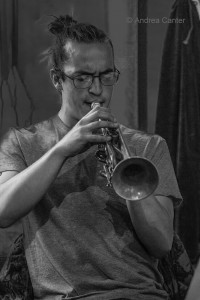 Noah Ophoven-Baldwin was on the front line of the University of Minnesota Jazz Ensemble I, and since graduation four years years ago, has appeared regularly in the trumpet section of the Adam Meckler Orchestra, leads his own trio, and has played with Jake Baldwin, Nelson Devereaux, the Brass Barn Polka Band, in Adam Linz's Le Percheron, in soul-funk band Hustle Rose, and with Pat Moriarty and Ellen Lease in Resurrection. A busy composer as well as performer, Noah is the co-founder of the musician's collective, Six Families.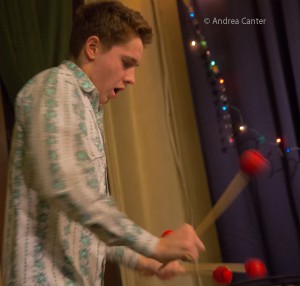 Levi Schwartzberg is only a junior at the U of M, but he's been perfecting his four-mallet technique on vibes since high school days. He is also an accomplished pianist, currently performing on both instruments in the U of M Jazz Combo. A graduate of Minneapolis Southwest High School who participated for two years with the Dakota Combo, Levi has led his own ensembles at Jazz Central, Black Dog and Khyber Pass Cafe as well as performing with Adam Linz's Le Percheron, Will Kjeer, the Charlie Lincoln Group, Sound Skirmish, and more.
Quo Vadis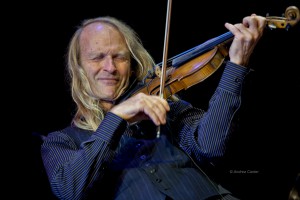 Gary Schulte is an accomplished violinist and violist best known around the Twin Cities for his work with the Twin Cities Hot Club, Mill City Hot Club and Gypsy Mania, Sidewalk Café and Talking Strings. A graduate of Indiana University, Schulte's duo with France's top cellist-improviser, Didier Petit, at Minnesota Sur Seine 2008, was called one of the highlights of the festival. A veteran of A Prairie Home Companion, Schulte has collaborated with Gypsy Jazz guitar legend Dorado Schmitt, David Byrne, Dionne Warwick, Butch Thompson, Dean Magraw, Reynold Philipsek, Robert Bell, Parisota Hot Club, Rhonda Laurie, Lee Engele, Ballet of the Dolls, Zeitgeist, Papa John Kolstad, Theatre de la Jeune Lune, Axis Mundi, Carei Thomas's Neighborhood, Dance Revels, the Minnesota Gospel Twins, Klezmarica, and Ancestor Energy Poetry-Jazz. He is also known for his unaccompanied solo "Concerts in Unusual Places," where he takes story or image suggestions and creates spontaneous performance compositions before a live audience.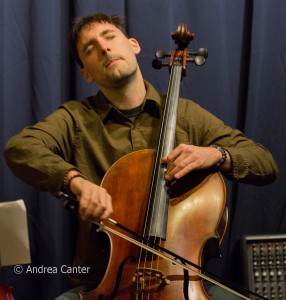 Greg Byers might be best known locally as an inventive cellist, but has actually mastered a number of string instruments. And he wants to play them all, at the same time.  So in 2013, the recent graduate of the master's degree program at McNally Smith College of Music found a way to musically clone himself, and with the help of a successful Kickstarter campaign, launched a tour of his project byerself, taking his music (composing, performing, producing, singing and songwriting) from the Twin Cities to Ohio, Ontario, the East Coast and Chicago. Greg started out studying cello as a toddler in Rochester, NY and later sought to bring the cello into jazz. As a student at the University of Miami, Greg wanted to major in "jazz cello," and after some unsuccessful negotiations with the college administration, Shelly Berg, Dean of the Frost School of Music, named Greg the university's first graduate as a jazz cellist. After a stint in LA, Greg came to the Twin Cities to attend McNally Smith. In addition to his "byerself" project, Greg currently performs with world music ensemble Axis Mundi, singer Raquel Sofia, jazz quintet Canadian Girlfriend, Rogue Tango, Tropical Zone Orchestra, and more.
A veteran of the Twin Cities music scene, multi-instrumentalist Steve Kimmel ran the old Rainbow Gallery Jazz Club and handled bookings for the Loring Bar. He's also considered a "legend" of the U of  M West Bank, having performed with many of the area's blues and jazz artists including the Lamont Cranston Band. He leads his Steve Kimmel Group and performs in duo with bassist Marge Breivik.
Studio Z is located on the second floor of the Northwestern Building at 275 E 4th Street in St. Paul's Lowertown. Tickets ($10) at the door or in advance at www.studiozstpaul.com