"…camaraderie, empathy, chemistry, commonality, a quarter century of artistic collaboration and friendship" — Joshua Redman
"…among the most potent and influential jazz instrumentalists of their generation." –Ottawa Citizen
About five years ago, two of their generation's leading jazz artists joined forces for a summer tour of Europe. The music was well received but it took a few years for those elegant duo performances of saxophonist Joshua Redman and pianist Brad Mehldau to resurface on Nonesuch Records as Nearness, released earlier this month, and prompting a new tour that will include stops at the Dakota in Minneapolis, September 24-25.
Joshua Redman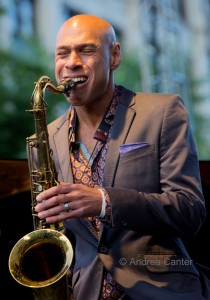 Joshua Redman has managed to meet the high expectations that have surrounded the Ivy League graduate and progeny of tenor sax legend Dewey Redman. Raised in the Bay Area by his mother, dancer Rene Shedroff, young Joshua seldom saw his famous father, yet was enveloped in a wide range of music and exposed to the eclectic arts of the area around Berkeley.  He listened to his mother's recordings of the Beatles, Aretha Franklin, and John Coltrane, and from age nine, he attended performances at Keystone Korner—Rashaan Roland Kirk and Pat Metheney, whose band included none other than Dewey Redman. At age ten he started on the saxophone, and went on to play in the award-winning Berkeley High School Band. After earning an honors degree from Harvard in 1991, he decided to forgo Yale Law School, and went on to win the Thelonious Monk International Sax Competition. Over the next decade, Redman recorded a string of acclaimed sets for Warner Brothers and repeatedly topped Readers' and Critics' polls. He performed with the best– Jack DeJohnette, Charlie Haden, Elvin Jones, Joe Lovano, Pat Metheny, Paul Motian, and Clark Terry as well as Dewey Redman, and toured and recorded with his acclaimed ensembles — Christian McBride and Brian Blade, expanding to a quartet with pianist Brad Mehldau, another quartet with Aaron Goldberg, Reuben Rogers and Gregory Hutchinson, later the electrified Elastic Band with Sam Yahel and Brian Blade, followed by a series of piano-less trios.  He became the inaugural Artistic Director of the SF Jazz Collective in 2005, leaving in 2009.
In 2009, Redman entered into a collaborative quartet dubbed James Farm with Goldberg, Matt Penman and Eric Harland, which has yielded two recordings to date, their self titled debut in 2011 and City Folk in 2014. Joshua has more recently toured with his quartet (Aaron Goldberg, Reuben Rogers, Gregory Hutchinson or Eric Harland) and The Bad Plus, with whom he released The Bad Plus Joshua Redman in 2015. Redman has been nominated for 2 Grammys and has garnered top honors in the critics' and readers' polls of DownBeat, Jazz Times, The Village Voice and Rolling Stone. He wrote and performed the music for Louis Malle's final film, Vanya on 42nd Street, and is both seen and heard in the Robert Altman film, Kansas City.
Brad Mehldau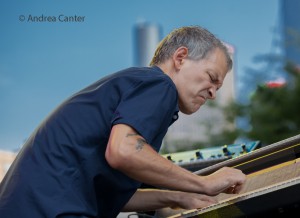 Jacksonville, FL native Brad Mehldau spent most of his youth in Connecticut. As a high school junior at Hall High School in Hartford, he won Berklee College's Best All-Around Musician Award.  After graduation, he relocated to New York to attend the New School for Jazz and Contemporary Music, where he studied with Fred Hersch, Junior Mance, Kenny Werner and Jimmy Cobb; soon he began touring with Cobb. His big break came as sideman to Joshua Redman, playing in Redman's quartet until he formed his own acclaimed trio with Larry Grenadier and Jorge Rossey in the mid 90s.  With this trio (and later with Jeff Ballard replacing Rossey on drums), Mehldau has recorded a long series of trio albums, prompting comparisons with the long-running trios of Bill Evans and Keith Jarrett.
Mehldau's approach to the piano is regarded as one of the most easily identifiable and creative among modern jazz artists. Among many influences, he particularly cites Larry Goldings, Kevin Hayes, Peter Bernstein, Mark Turner, Kurt Rosenwinkel and David Sanchez. He draws upon his classical training as well, often playing a separate melody with each hand in odd meters and keys. Another signature technique is to play an ostinato in the right hand while developing the thematic idea in his left. His style uniquely combines creative improvisation with an equally strong formalistic bent.
In addition to his five "Art of the Trio"(Warner Brothers) and subsequent trio recordings, Brad has recorded with Pat Metheny, Charlie Haden and Lee Konitz, and artists outside of jazz including Willie Nelson and Joe Henry. With operatic superstar Renee Fleming, he performed two commissions at Carnegie Hall in 2005, later released as Love Sublime; another Carnegie Hall commission for a song cycle for mezzo-soprano Ann Sofie von Otter was released as Love Songs in 2010. Mehldau's widely acclaimed Nonesuch double release, Highway Rider, featured Joshua Redman and a chamber orchestra, is a large-scale work for chamber orchestra and jazz ensemble, produced by pop artist Jon Brion, who earlier produced Mehldau's edgy Largo.  More recent recordings include the trio's Grammy-nominated Ode (Nonesuch, 2012), Where Do You Start (2013) which won the Academi Du Jazz: Album of the Year; Mehliana: Taming the Dragon (2014, Nonesuch), the debut album from his electric (Fender Rhodes) duo with drummer Mark Guiliana; the current trio (Larry Grenadier and Jeff Ballard) release Blues and Ballads, and the four-disc Ten Years Solo Live (Nonesuch, 2015).
Duo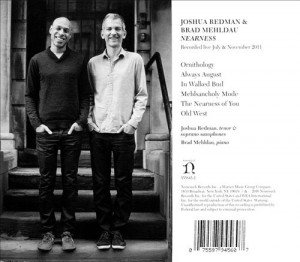 In addition to bringing Mehldau into his quartet in the late 90s,  Redman collaborated with Mehldau on Brad's 2010 Highway Rider project (which still tours), on the European tour in 2011 which yielded the music for their duo release, Nearness (2016), and in 2013, when the pianist performed on and produced Redman's Walking Shadows. When Redman and Mehldau first toured as a duo in 2011, Brad noted that "It's like one of those friendships where you don't see someone for a long stretch and then you fall right back where you left off" (Ottawa Citizen). Duos present unique challenges, notes Joshua, as "there's no one else in the band to listen to, respond to, interact with — it's just the two of us! But it's so inspiring, and so much fun!"  Fun and inspiration? Just listen to the opening track ("Ornithology") of Nearness for a good dose of both!
Early response to Nearness, which includes standards and originals from the 2011 duo tour, has been expectedly positive. Notes the Financial Times, "As they unfold at an unhurried pace, Redman and Mehldau conjure many layers of emotion with a strong narrative drive and not a note out of place." The Wall Street Journal claims that "few records released this year better define what jazz sounds like today."
But don't expect a re-enactment of the album or of their previous live performances. Each set will be a collaborative, spontaneous meeting of like-minded inventors and passionate artists at the top of their elegant game.
The Dakota is located at 1010 Nicollet Mall in downtown Minneapolis; reservations at www.dakotacooks.com or 612-332-5299. Shows at 7 and 9 pm both Sunday and Monday nights, September 25-26.