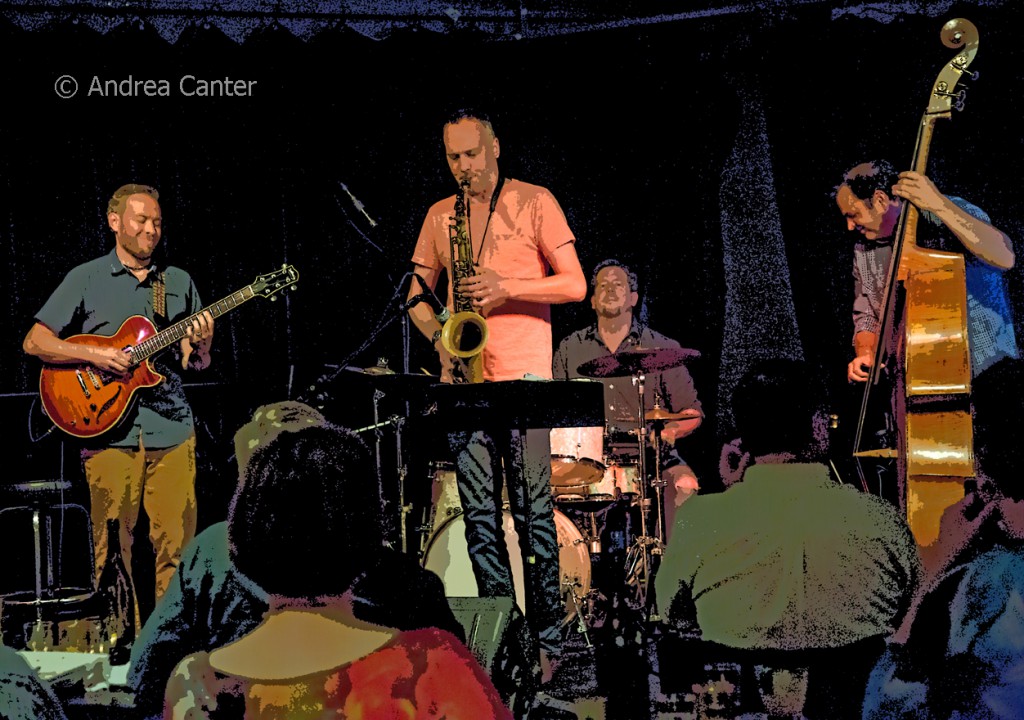 Jazz festivals are not just for major metropolitan areas! Neither the famed Monterey nor Newport Jazz Festivals are held in big cities, although both are near major urban centers. Smaller festivals thrive throughout the nation, such as the Healdsburg Jazz Festival in northern California and the Iowa City Jazz Festival in the heart of the Midwest. On a smaller scale, the Rochester (MN) City Jazz Festival will hold its inaugural event on Sunday, July 24, Noon – 8 pm at the Rochester Civic Theatre on two stages, outdoors on the patio in the afternoon, and indoors in the theater in the evening. Headliners from the Twin Cities include Steve Kenny's Group 47 and the Atlantis Quartet. Earlier in the day, the D'Sievers Quartet performs and hosts a three-hour jazz jam. The festival is sponsored by the Rochester Downtown Alliance and Rochester Civic Theatre. Tickets are $10 for the full festival.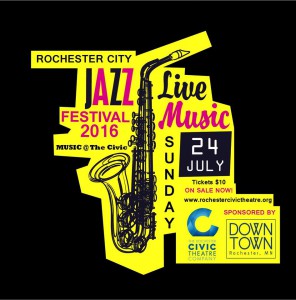 Organized by musicians/curators John Sievers and Steve Kenny, "It all stemmed from years of audience building and scene building John has tirelessly done in Rochester and the surrounding communities," notes Kenny.  "I'm really excited to be organizing the first Annual Rochester City Jazz Festival," said John Sievers.  "I think it is high time that Rochester had its own jazz festival, and I'm thrilled we've been able to attract two top tier jazz ensembles– Group 47 and the Atlantis Quartet– for the festival.  The event will also provide the opportunity for local musicians to join in with the jazz jam that runs from 1-4 p.m. on the Rochester Civic Theatre's patio.  I'm really excited to hear Rochester's veterans and youth play side by side on the same stage!  This event wouldn't be possible without the generous support of both the Rochester Civic Theatre and a stARTup grant from the Rochester Downtown Alliance.  Jazz is one of America's truly original art forms, and it is incredible to see it embraced here in Rochester. This is going to be the start of a new local tradition, and it will definitely be a must see event."
Schedule

Noon-12:45 pm, The D'Sievers, patio stage
1-4 pm, Jazz Jam (your chance to sign up and sing or play two songs with The D'Sievers as your backing band), patio stage
4:30-6 pm, Steve Kenny's Group 47, indoor main stage
6:30-8 pm, Atlantis Quartet, indoor main stage
Food and beverages available for purchase; with catering by Grand Rounds.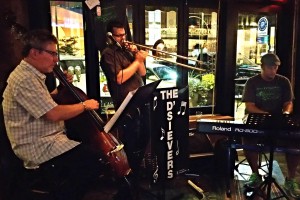 The D'Sievers (Noon)
The D'Sievers is a jazz quartet based in Rochester, MN, with John Sievers (trombone), Eric Straubmuller (piano), Steve Sawyer (bass), and Kurt Savela (drums). They've released a live CD, Trombots and Mermaids (2015) and perform regularly at southeast Minnesota venues including lThe Half Barrel. They also host a regular jazz jam at the Rochester Civic Theatre. Bryan Lund, from The Rochester Post Bulletin, describes the band as "seducing audiences with trombone-fueled jazz" that consists of "some ripping tunes." Megan Kennedy from KROC-FM described  Trombots and Mermaids as putting a "stamp on Rochester's musical map.
Steve Kenny's Group 47 (4:30 pm)
For a number of years, Steve Kenny led a band dubbed The Bastids (aka Bebop Bastids) for a weekly (Wednesday) early evening gig at the Artists Quarter. In summer 2013, Kenny decided it was time for a change-up, and for the remainder of the AQ's run (through December 2013),  the early Wednesday time slot featured his Group 47, with the veteran trumpeter surrounded by a brood of young lions. After the Artists Quarter closed, the ensemble found other modern jazz-friendly venues– Late Night at the Dakota, Jazz Central Studios, the Black Dog, Icehouse, Studio Z, and the Twin Cities Jazz Festival. In summer 2014, the band released its first recording, Straight to Vinyl (on LP and digital download).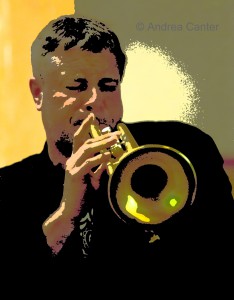 Steve Kenny studied at the University of Wisconsin-River Falls. Among many projects, he has performed with What Would Monk Do, the Cedar Avenue Big Band, and Larry McDonough's quintet (tribute to Chet Baker) as well as leading several editions of his own quartet. He's best known as co-founder of the Illicit Sextet, an ensemble popular in the 1990s before taking a long hiatus, and back in action for the past six years. Steve has received a Minnesota Music Award, West Bank School of Music Jazz Composer award, and multiple honors as Best Jazz Trumpet at the Eau Claire Jazz Festival. With support from a state arts board grant, he curated the ten-week "All Originals" jazz series at Studio Z for two summer seasons, continuing with a shortened schedule in summer 2016. In fall 2014 he launched the weekly Saturday Night Jazz at the Black Dog series, and in spring 2015, brought a similar series (Friday Night Jazz) to The Nicollet, recently rebranded and rescheduled as Thursday Night Jazz at Reverie. And that instrument he plays? It's a FLUMPET™– a hybrid trumpet/flugelhorn.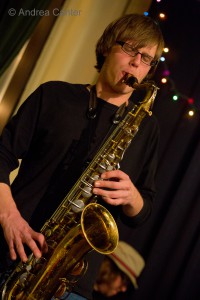 Thomas Strommen (tenor saxophone) studied with David Milne at the University of Wisconsin-River Falls. Over the years Thomas has studied with Greg Keel, Bryan Nichols, Adam Linz, Phil Hey, and the faculty of the Shell Lake Jazz Camp, as well as with instructors at Wayzata High School. During his senior year of high school, Thomas was selected as a member of the Dakota Combo. In addition to Group 47, Thomas co-leads a quartet, Dark Blue, and performs with the Alex Burgess Quartet.
Pianist Will Kjeer was already working around town as a freelance musician well before high school graduation in spring 2014.
In addition to Group 47, Will led his own trio and quartet at the Artists Quarter, and has led groups more recently at Jazz Central and the Black Dog, among other venues. With his high school peers, Will was a member of the Dakota Combo (two years) and Minnesota Youth Jazz Band as well as several other student-led ensembles. After receiving acceptances to several music conservatories, Will opted to attend the post-high school music program at Interlochen Center for the Arts in Michigan, which he completed in spring 2015. After a year at Cal Arts, he will now head to McGill University in Montreal to complete college studies.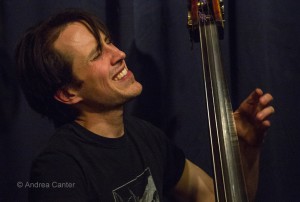 Bassist Adam Tucker has been playing, recording and producing music for many years on the Twin Cities scene. He's less known for his substantial jazz chops than as a member of groups like The Sextons, and is the driving creative and technical force behind Signature Tone recording studios, well regarded in the heavy metal community. However, many think of Adam as "the secret weapon" in jazz circles, given his work with the Adam Meckler Orchestra, No Time for Squares, the Jana Nyberg Group, and his long association with Steve Kenny and the Bastids.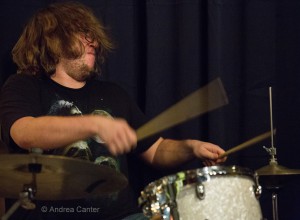 Alex Burgess is known as a very dynamic drummer. A student at UW-River Falls, he studies drums with Craig Hara and composition with David Milne. In addition to Group 47, he's a member of the Bad Habits Brass, Dark Blue, and other working jazz and commercial ensembles, and leads his own quartet. Alex teaches drums at Brickhouse Music in River Falls.
The Atlantis Quartet (6:30 pm)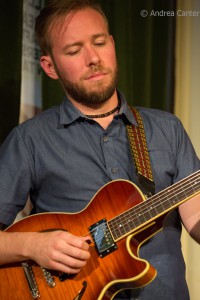 Describing themselves as on a mission to "create and explore fresh and original sounds on the modern edges of the jazz idiom," the Atlantis Quartet came together in 2006. They have since released four savvy recordings (Again Too Soon in 2007, Animal Progress in 2009, Lines in the Sand in 2011, and Expansion in 2013), with another (recorded live at the Icehouse) due for release in early 2016. The band has explored Coltrane's Love Supreme, Hancock's Head Hunters and Lead Zepplin's House of the Wholly in a series of Halloween gigs. Despite the musicians' busy schedules with other projects, the quartet appears regularly at Studio Z, Icehouse, Jazz Central, the Black Dog, Vieux Carré and other venues throughout the area, as well as on tour. They made their Jazz Showcase debut in Chicago in late 2014; performed at the Iowa City Jazz Festival in July 2015; and recently received a $25,000 McKnight Artists Grant.
Guitarist Zacc Harris came to Minneapolis about eight years ago from Illinois, where he graduated from Southern Illinois University. Here he formed the Luminessence Trio (now Zacc Harris Trio), continuing weekly gigs at the Riverview Wine Bar. In addition to Atlantis, Zaac also leads his Quartet, Vital Organ, the Zacc Harris Group, Counterclockwise and Monk in Motian; performs with Dean Granros' Tall Tales; is frequently on stage with Brandon Wozniak, Adam Meckler and Babatunde Lea; and teaches private guitar lessons. He's also curated the Jazz at Studio Z series for four seasons.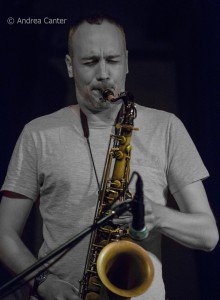 Saxman Brandon Wozniak previously lived and worked in New York City, toured with the Tommy Dorsey Orchestra, and earned his BA from Indiana University under the tutelage of David Baker. Since arriving in the Twin Cities in 2006, he has performed with local bands including Red Five, Dave King Trucking Company, the Adam Meckler Quintet, the Bryan Nichols Quintet, Zacc Harris Quartet, Impulso, and Vector Families; and in varying combinations with Adam Linz, Billy Peterson, Dean Magraw, Kenny Horst, Zacc Harris, Steve Kenny and more. For the past two seasons, Brandon has performed on the Jazz in the Target Atrium Series at Orchestra Hall as part of the Atrium Jazz Ensemble, led by Jeremy Walker.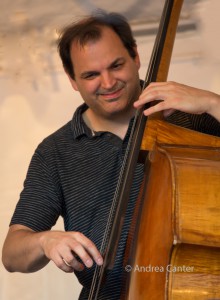 Bassist Chris Bates is familiar to Twin Cities audiences through his associations with Red Planet, Volcano Insurance, Framework, A Love Electric, How Birds Work, Tall Tales, Bill Simenson Orchestra, Adam Meckler Orchestra, and many other cutting edge ensembles in addition to Atlantis. In the past few years has stepped out front as leader of the Good Vibes Trio and his quintet, Red Five, both of which released debut albums in the past two years. He recently revived another vibes trio, Low Blows, and curates a monthly improvisation series at Jazz Central, one Wednesday night per month. Chris studied at the University of Wisconsin–Eau Claire and later with Anthony Cox, was an original member of the Motion Poets, and a 1999 McKnight Composer Fellow. He was one of four jazz artists to be awarded a composition commission from Zeitgeist, which was premiered at the 2014 Twin Cities Jazz Festival.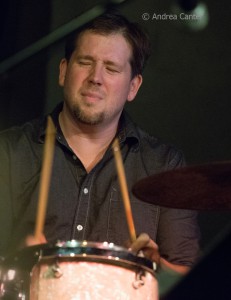 Drummer Pete Hennig came to the Twin Cities to study at McNally Smith. After graduating he spent an additional three years studying with Dave King (Bad Plus, Happy Apple). In addition to the Atlantis Quartet, his performance credits include the Zacc Harris Quartet, Debbie Duncan, Katie Gearty, Sam Kuusisto, Tickle Fight, Patrick Harrison, Johnny Clueless, Park Evans, Monk in Motian, and the Fantastic Merlins, and he leads his own bluegrass band (Bluegrass Bandits).
Tickets ($10) to the Rochester City Jazz Festival are available at the door or in advance at https://rochestercivictheatre.ticketforce.com/eventperformances.asp?evt=35. The Rochester Civic Theatre is located in the north corner of the Mayo Civic Center Complex at 20 Civic Center Dr SE in the heart of downtown Rochester, MN.