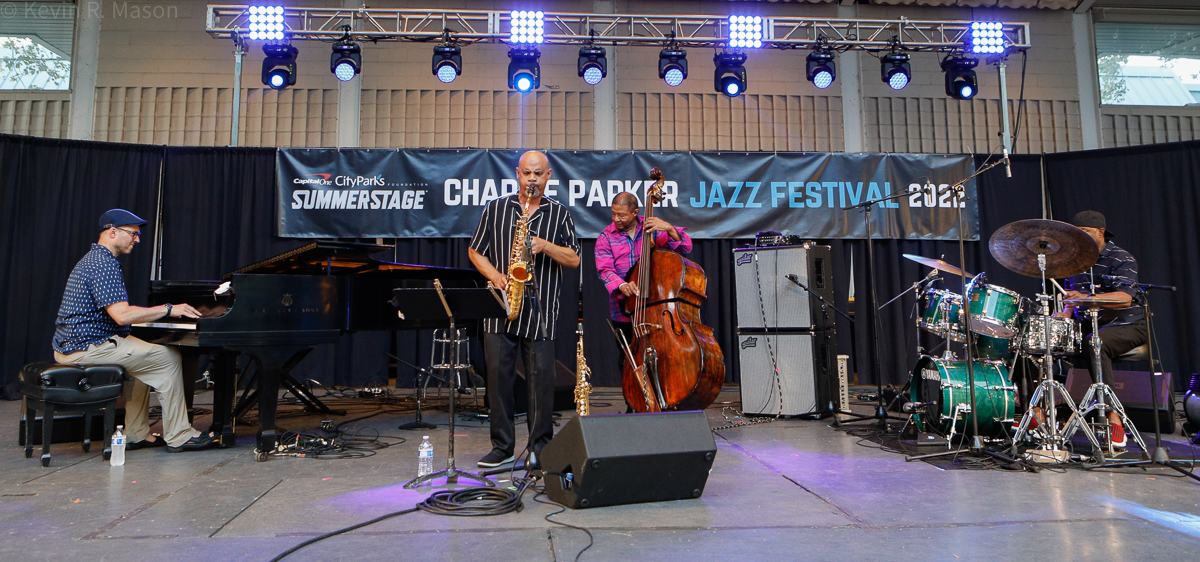 The Charlie Parker Jazz Festival turned 30 in 2022!  The SummerStage production took place      from August 24-28, and was completely FREE, with activities throughout New York City. The events included "Jazz in the Garden: Joaquin Pozo Y La Clave Suena," a documentary film, Buster Williams Bass to Infinity, with a Q & A with bassist/composer Buster Williams and the film's director Adam Kahan, and a master class by Buster Williams at the National Jazz Museum in Harlem that can now be viewed on YouTube.
Thursday, August 25
Winard Harper & Jeli Posse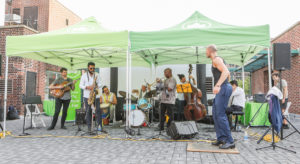 NYC Parks and the Jazz Foundation of America presented a concert by drummer Winard Harper and Jeli Posse, which included Nick Masters on keyboards, trumpeter James Gibbs, guitarist Charlie Sigler, saxophonist Anthony Ware, percussionist Gabriel Roxbury, and tap dancer A.C. Lincoln. This event took place on the rooftop of the Hansborough Recreational Center in Harlem, on a particularly lovely summer evening. Between the great weather and the fine music, it was an excellent jazz-lover's experience.
Will Glass, Program Director of the Jazz Foundation of America, talked about the mission of the organization, its programs for helping musicians in need, and its advocacy for public works. Then Glass introduced Winard Harper and Jeli Posse, saying that Harper came up under giants like Dexter Gordon, Johnny Griffin, and Betty Carter, and has been a longtime leader in his own right. Much like Art Blakey, Harper is a dynamic drummer who encourages the young talented musicians in his band to fully express their improvisational voice.
The set started with a song that was alternately mellow and percussive, "What Am I Here For?" Each of the band members had their moment in the spotlight, and the song was punctuated by the excellent tap dancing of A.C. Lincoln. The next piece was Winard Harper's original "God is the Greatest," that began with driving beats by Harper and Roxbury, and had a distinctly African flavor. It really got the crowd going! Then came a fast-paced Sonny Clark gem, "Somethin' Special," that featured a superb trumpet solo by James Gibbs, an outstanding turn on guitar by Charlie Sigler, and some incendiary drum riffs from Winard.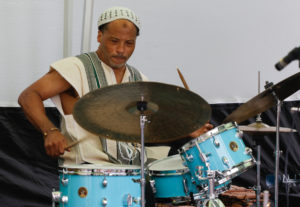 Harper said to the audience, "Thank you very, very, very much!…It's a pleasure and an honor to be here…This wonderful, powerful art form that we are so happy and blessed to be a part of, jazz, I can't say enough about it. It's one of the greatest examples of democracy that you're ever gonna see!" The laid-back, but sumptuous "Water From An Ancient Well" by Abdullah Ibrahim was played just as the sun was setting, and the sunset was the perfect backdrop for this beautiful tune. A composition by Paul Mitchell, "Hard Times," was a gently swinging thing of beauty, with the band totally in the pocket.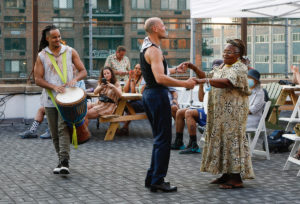 The concert closed with David "Fathead" Newman's "Amandla," the same name as the documentary that followed. It was a joyful, sprightly piece where A.C. Lincoln, Gabriel Roxbury, and James Gibbs came out into the audience, dancing and interacting with the crowd. For an exhilarating encore, the band played Sonny Rollins' "St. Thomas," which made a great end to the set!
Amandla! A Revolution in Four Part Harmony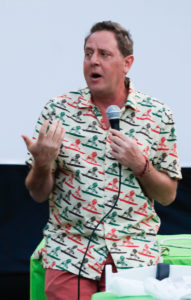 The presentation of the 2002 documentary, Amandla! A Revolution in Four Part Harmony, began with a question-and-answer period with the film's director, Lee Hirsch. Hirsch spoke about his experiences becoming an activist and going to South Africa. He also discussed how he raised the funds for the film. The word "Amandla" (Zulu and Xhosa meaning "power") became a rallying cry for the anti-apartheid movement. In the documentary, South African musicians, playwrights, poets and activists recall the struggle against apartheid that stripped black citizens of South Africa of basic human rights. The film emphasizes the important role that music played in that struggle. South African activists often took popular songs and changed the lyrics to make protest songs. The documentary uses a mixture of interviews, musical performances, and historical film footage to illustrate the importance of familiar harmonies in the movement. Among the prominent South Africans featured in the film are Miriam Makeba, Abdullah Ibrahim, Hugh Masekela, and Vusi Mahlasela.
The documentary also highlighted the forced removal by trains of people from thriving villages to desperately poor shanty towns. Exiles became more militant as government violence and repression increased. Vuyisile Mini, musician, a trade organizer, and member of the African National Congress, was one of the most important early writers and singers of South African Freedom songs, including "Ndodemnyama we Verwoerd" ("Beware, Verwoerd"), which was often sung by Miriam Makeba as a rebuke to the "Father of Apartheid" Hendrik Verwoerd. Vuyisile Mini was executed by the apartheid regime in 1964 and buried in a pauper's grave. That became a call to action in the movement.
The soundtrack also included the liberation songs "Bring Him Back Home (Nelson Mandela)" by Hugh Masakela, "Toyi – Toyi" by Abdullah Ibrahim, and "When You Come Back" by Vusi Mahlasela. This film was a striking and illuminating picture of the turbulent anti-apartheid period in South Africa and the music that drove it.
Friday, August 26
The Courtney Wright Trio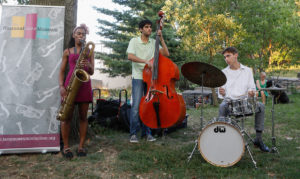 The music started at Marcus Garvey Park with the Courtney Wright Trio, presented by The National Jazz Museum in Harlem. Baritone saxophonist Courtney Wright is a rising player and composer with a smooth, clear, and steady tone. She was joined by drummer Simon Ribas, and bassist Sameer Shankar for an acoustic set on the grass next to the amphitheater for the first of two-day opening sets, getting the festivities off to a fine start. The set included "All The Things You Are," "If I Should Lose You," Dizzy Gillespie's "Woody 'n' You," and Sonny Rollins' "Pent-Up House," with each musician contributing fine licks on all the songs. Courtney's superb saxophone riffs were effectively accompanied by her musical cohorts, and they closed their show with "Billie's Bounce." Courtney is so tiny in stature, that her baritone sax is almost as big as she is. However, despite her slight frame, she makes big sounds come out of that sax! This group of young musicians showed a lot of promise, and you're likely to be hearing from them. They did a great job of warming up the crowd for the show on the main stage.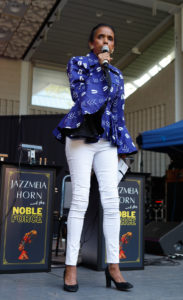 At the main stage amphitheater, Paula Abreu, Associate Director of Programming for City Parks Department, welcomed the crowd while noting the Festival's 30th anniversary, and gave praise to the many people who were a part of putting together the Charlie Parker Jazz Festival. She acknowledged that the land the Festival was on was originally the land of the Lenape tribe of Native American Indians and declared gratitude to the original inhabitants of that land. Then, Paula introduced Robin Bell-Stevens of Jazzmobile, who spoke about SummerStage and discussed the history of this Festival. Bell-Stevens also thanked all the sponsors of the events, and the donors to Jazzmobile in the audience. Robin talked about the evening's performers and introduced Calvin Booker.
Calvin Booker On Tap & Friends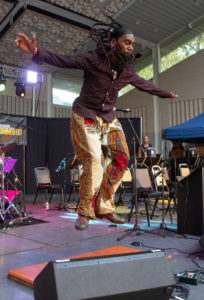 Tap dancer Calvin Booker took the stage clad in multi-colored pants and mesmerized the crowd with his fiery tap dancing, with his dreadlocks flying to the music. The show was going very well, until unfortunately, one very loud heckler inexplicably tried to shut things down with rude catcalls. However, the audience cheered Calvin on enthusiastically, and the dancer handled the situation with grace and aplomb. Although the heckler (who seemed to be inebriated), was determined to keep flinging nasty insults, he was soon escorted out by security, and the crowd energetically booed him on his way out!
While the unpleasant interlude put a momentary damper on things, Calvin Booker got things back on track with an impassioned dance to "All the Things You Are," and "Carry Me Home." When fellow tap dancer A.C. Lincoln joined Booker, their collaboration had the two tappers dancing their hearts out and ending the set to thunderous applause!
Jazzmeia Horn and Her Noble Force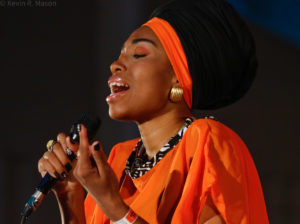 Celebrated jazz vocalist Jazzmeia Horn was joined by the band Her Noble Force, that included drummer Chris Beck, baritone saxophonist Jason Marshall, alto saxophonist Markus Howell, tenor saxophonist Anthony Ware, drummer Chris Beck, trumpeter Josh Evans, pianist Keith Brown, and guest pianist Andrew Wilcox. They began with a composition by Lafayette Harris that had a swinging big band sound, with Jazzmeia's voice soaring up and down the scale! On a song that Sarah Vaughan recorded, "He's My Guy," there was great cohesion between Horn and her cohorts. Next was Jazzmeia's original composition, "Let Us (Take Our Time)," a sultry song about romance that was a delight to the audience, and the singer put a lot of feeling into it.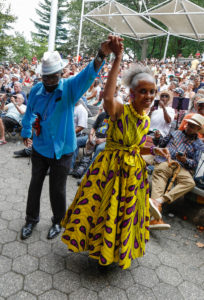 "Lover Come Back to Me" featured some of Horn's excellent scatting, with the band not missing a beat! At one point, Jazzmeia quipped, "We are essential workers, too!" She also discussed her jazz journey successes, as well as how record label budget obstacles challenged her to start Empress Legacy Records and produce her CD, Dear Love. The song "Nia" was a powerfully beautiful and emotional ballad. It was followed by the affecting, percussive "Strive (To Be)" where Horn conducted the band's intro, and added more outstanding scatting, with some red-hot licks from the musicians. Ms. Horn also got the crowd to sing along, and it really sounded great!  On the Frank Foster composition "Simone," guest pianist Andrew Wilcox sat in and contributed an exceptional solo. Jazzmeia praised her band, then performed "Where is Freedom?" a funky, down-home number that had several audience members dancing in front of the stage. It was completely dark by the time Jazzmeia Horn ended her excellent set to a tremendous standing ovation!
Saturday, August 27
The Courtney Wright Trio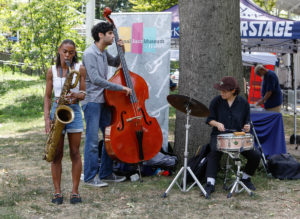 The Courtney Wright Trio – baritone saxophonist Courtney Wright, drummer Eliza Salem (for this set), and bassist Sameer Shankar, returned for a second day to warm up the crowd for the main stage acts. Their first song had a swinging bebop pace, with each musician adding stellar accents throughout. "There Will Never Be Another You" was another lively swinging tune where Courtney's sax was front and center, well backed by Eliza and Sameer. "Autumn Leaves" was a lovely, mellow rendition, and the perfect music to chill out to in Marcus Garvey Park. Once again, these young musicians did a stellar job as opening act for the musicians at the amphitheater.
Vuyo Sotashe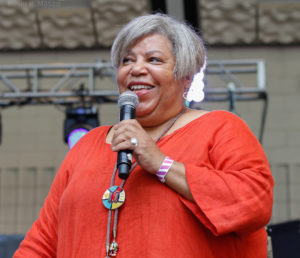 Paula Abreu took the microphone again, discussing the Festival, and introducing Sheila Anderson of WBGO Radio. Anderson talked about South African vocalist Vuyo Sotashe's background, and introduced Vuyo's group, which consisted of pianist Chris Pattishall, drummer Ahmed Johnson, guitarist Franklin Rankin, and bassist Jonathan Michel. Since coming to America, Vuyo Sotashe has proven himself as an incredible singer by placing high or winning various vocal competitions, including being the first male vocalist to place in the finals of the Thelonious Monk Institute International Jazz Vocal Competiton. He has performed with the Jazz at Lincoln Center Orchestra and Ensemble, Mwenso & the Shakes, Winard Harper, and others.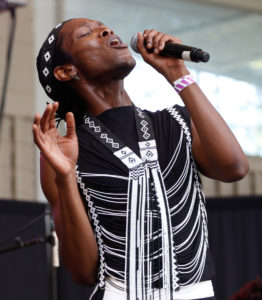 Vuyo was decked out in a striking black and white outfit with silver statement jewelry, and he started with a song by the great Abbey Lincoln, "Angel Face," sung in Sepedi, one of the 11 official languages of South Africa. Next was a composition by Tutu Puoane, a vibrant piece where the band worked together like a well-oiled machine, providing excellent accompaniment to Vuyo's soaring, multi-octave voice. They followed with a piece that was like a spiritual incantation, and then a song of protest that was joyful to hear, despite the serious lyrics. They segued into a delightful version of Gretchen Parlato's "Magnus."
Sotashe discussed being homesick when he first moved to the U.S. almost 10 years ago as introduction to his song, "MaDiamini," which was a beautiful composition Vuyo wrote in tribute to his mother, with her tribe's name throughout the melody. The set closed with a song about a town going through a drought, and all the spiritual leaders prayed for rain. The rain came, and the town celebrated! This performance was a lovely, slow, yet passionate ode to the power of prayer and people coming together. Vuyo got the crowd to sing along, and he praised the audience for how great they sounded. This set offered a lot of gorgeous music, and even though much of it was not in English, Vuyo's hauntingly beautiful singing and stage presence managed to communicate in a marvelous way.
Nikara presents Black Wall Street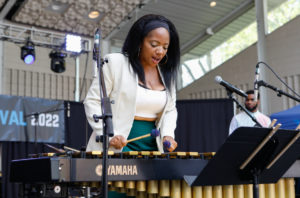 Brilliant vibraphonist Nikara Warren was joined on stage by bassist Jonathan Michel, keyboardist Axel Tosca, drummer David Frazier, Jr., guitarist Cory Sanchez, and tenor saxophonist Chris Lewis. Nikara Warren is the grandchild of the great pianist Kenny Barron, and WBGO's Sheila Anderson introduced him in the audience. Nikara is certainly carrying on the family legacy, and making her grandfather proud! Warren's 2021 album Nikara presents Black Wall Street was a family affair featuring both Kenny Barron and Nikara's younger sister, vocalist Brianna, aka "Be.Be," on several notable cuts among the 10 songs. Ms. Warren invited Be.Be (who was recovering from a terrible car accident) to the stage. Nikara said how happy she was to have Be.Be there and called her sister a blessing. Despite using a cane to get on stage, Be.Be's performance of "Please Don't Let Me Be Misunderstood" showed off her powerful voice, which fortunately is unimpaired by her injuries.
The next number was a rock-infused jazz ditty that the band played all out, tearing up the stage! Their closer was a dynamic, Caribbean-influenced piece, "Run Ricky," where Nikara did a rapid-fire rap at the beginning, and all the artists played with gusto. As Sheila Anderson said at the end of the set, the group was "swinging hard and taking no prisoners!"
Buster Williams and Something More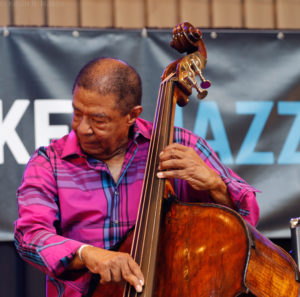 Sheila Anderson sang the praises of Charlie Parker, then introduced esteemed bassist Buster Williams, who was musically complemented on stage by pianist George Colligan, saxophonist Steve Wilson, and drummer Lenny White. The group began their set with something red-hot and swinging that displayed some truly excellent musicianship. Pianist George Colligan played a scintillating solo, followed by Steve Wilson's splendid sax interlude. The second number was so alluring that several couples got up to dance. They followed with a languid and laid-back composition that just washed over the crowd in waves of relaxation.
A poignant and piercingly lovely soprano sax solo by Wilson began the next tune, then the other players joined in for a perfect blending of their instruments. They then performed a syncopated version of "I Didn't know What Time It Was" that once again got people up to dance, with the whole audience nodding and swaying. An exceptional drum solo by Lenny White was the perfect punctuation to the great style of the performance. This was another stand-out set at the 2022 Charlie Parker Jazz Festival.
Terence Blanchard Featuring the E-Collective and Turtle Island Quartet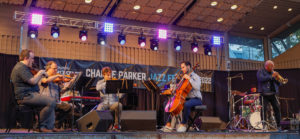 Renowned trumpeter Terence Blanchard brought on stage E-Collective members, drummer Jonathan Butler, guitarist Charles Altura, keyboardist Taylor Eigsti, and bassist David Ginyard, along with Turtle Island Quartet musicians, cellist Naseem Alatrash, violinists David Balakrishnan and Gabriel Terraciano, and Benjamin Von Gutzeit on viola. After Sheila Anderson's effusive introduction, the group began with an elegiac, emotional "Absence" in tribute to Wayne Shorter. The song, "I Dare You," started with a percussive section from the strings of the Turtle Island Quartet, with the rest of the musicians joining in for a surreal piece leading to a big crescendo ending.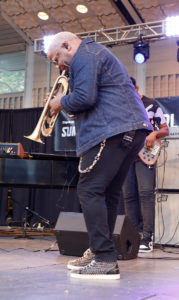 "Dark Horse," composed by guitarist Charles Altura, was a beautifully mournful, minor-key lament. Blanchard talked about the Turtle Island Quartet, noting that they are changing the paradigm of what it means to be a string quartet. They performed a striking tune that defied genres, and they played it to the hilt! The next piece, "Soldiers," was dedicated to "the essential workers, who don't get enough shine." Written by Terence, it was brilliantly dark and revealed all the emotions of a protest song – anger, grief, hope, and passion.
They continued with a pulsating tune where every musician's virtuosity was clearly on display. Although this set started late due to earlier set-up delays, Marcus Garvey Park was packed until the very end of this exhilarating concert, which was a fitting end to a wonderful day of music!
Sunday, August 28
Pasquale Grasso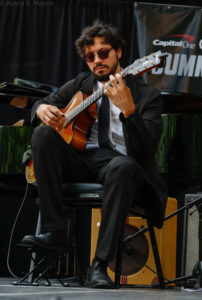 The final day of the Festival had WBGO's Brian Delp taking over the hosting duties at Tompkins Square Park in Manhattan's Alphabet City. Delp got the events of the day started by introducing guitarist Pasquale Grasso's group. His trio included bassist Ari Roland and drummer Keith Balla, and they got the day off to a delightful start with their version of "This Time the Dream's On Me," where Pasquale's beautiful, warm tones were finely accompanied by Roland and Balla. "Shona" was a quick-tempo number that had the three sharply dressed musicians wowing the audience with the dexterity of their performance. "Casbah" was dedicated to the late bassist Murray Wall, and it started with a gorgeous extended guitar solo by Pasquale, followed by Ari Roland playing his bass like a violin, presenting the audience with some enjoyably unusual notes. At one point, Grasso said how happy he was to be there, and mentioned Charlie Parker as one of his favorite artists and a great inspiration, and the reason he is in New York.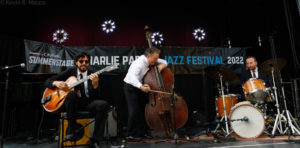 "My Ideal" carried the listeners away with the beauty of the performance, and "A Night in Tunisia" was a delicious version that sent warm vibes into the crowd. Charlie Parker's song, "Quasimodo," was a sprightly, charming piece of music, despite the title! The group closed with another swinging tune that really finished the concert in high style!
Bria Skonberg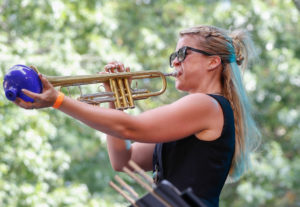 Trumpeter/vocalist Bria Skonberg partnered with pianist Mathis Picard, drummer Darrian Douglas, guitarist Gabe Schneider, and bassist Adi Meyerson to start the set with the scintillating, high energy "Elbow Bump," with each musician adding just the right unique accents to the piece. Then came "Down in the Deep," a hybrid number that changed tempo several times, and shifted from some funky jazz to down-and-dirty blues.  The next serving was a very dramatic piece with great harmonies and cohesive interplay between the musicians. Bria said that this was the first time she had performed in New York City in a couple of years, and she discussed how unusual recent times have been. She noted, "I find that I'm trying to simultaneously find a way back and find a way forward at the same time." She said that one way to do that is to revisit songs that she has loved for a long time.
Duke Ellington's "Mood Indigo" speaks to isolation, and Bria sat down on the stage next to pianist Mathis Picard, and sang in a smoky, sultry voice that jumped octaves and brilliantly portrayed the emotions of the song, touching the crowd with her presentation. "I'll Remember April" was an island-infused pleasure. On "Blackout," Skonberg once again sang with conviction, and her band provided spirited accompaniment. Bria pulled out a tambourine and asked the audience to sing along, which worked until she sang some phrases that were so high the crowd dissolved into laughter. "Night Time is the Right Time" made for a fabulous finish to an exciting set.
Melissa Aldana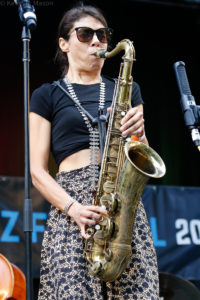 Tenor saxophonist Melissa Aldana took the stage with her band; guitarist Lage Lund, bassist Pablo Menares, pianist Sullivan Fortner, and drummer Kush Abadey. The quintet started with an eclectic avant garde tune that was a beautifully surreal musical trip. Aldana said that she did not want to talk too much, and mostly play, but she did briefly discuss her Blue Note CD 12 Stars as an introduction to the title song they played. The next number was a contemplative song where Melissa showed off the skills that won her the Thelonious Monk International Jazz Saxophone Competition in 2013. "The Bluest Eye" was based on Toni Morrison's novel, and it featured strong improvisational turns from each artist, especially Melissa's stirring phrases.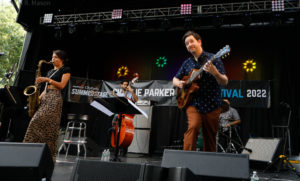 The international aspect of this day was punctuated by this set, which was like a travelogue. "Amelia" was written during the pandemic, inspired by a dream Melissa had about having a daughter named Amelia. It was a thoughtful, meditative song, and it was clearly close to Aldana's heart. The closing number was "Los Ojos de Chile," an introspective piece where each improvisation interconnected beautifully.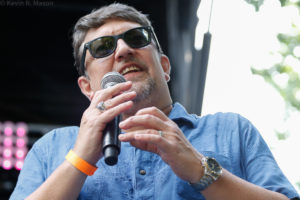 At the end of this fine set, Brian Delp took a moment to remember important jazz figures who had died recently, including Warren Bernhardt, Jamie Branch, Joey DeFrancesco, and Michael Bourne.
Archie Shepp and Jason Moran Featuring Cécile McLorin Salvant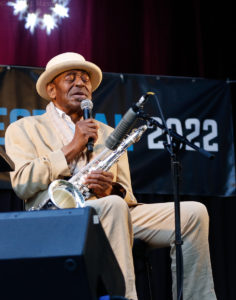 This was one of the most anticipated sets of the 30th Charlie Parker Jazz Festival, and Brian Delp introduced the musicians with well-deserved praise! Although iconic saxophonist Archie Shepp had to be helped to his seat by acclaimed vocalist Cécile McLorin Salvant and innovative pianist Jason Moran, once seated, Archie showed that he still had a lot of music in him to give. Shepp's composition "Déjà Vu," was a gorgeous ballad that started with Cécile's clear, superb vocals. Archie later joined her with his time-weathered voice that expressed years of experience. From Shepp's 1969 recording Blasé, Cécile recited/sang the poetry of the title song, which told the story of a troubled love affair.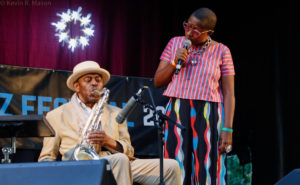 Shepp and Salvant scatted wonderfully together as the next song began, and Jason Moran contributed some wonderful piano interpretations. Then, Archie and Jason moved into "Ain't Misbehavin'" with a charming sax/piano duet. Later in the song, Cécile added some delectable vocals to the mix, and somehow, she and Shepp's very different voices blended in a marvelous way. Archie did a very emotional sax solo at the start of "Lush Life," then added his burnished    singing, followed by Cécile chiming in with grace and style. It was a really a splendid thing to experience.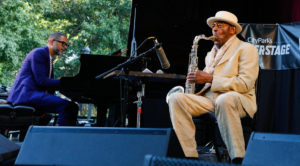 "Ballad For a Child," from Shepp's 1972 record Attica Blues, was a marvelous ode to babies, and how "the whole world need's a baby's smile." On a plaintive version of "Let My People Go" Archie's voice was employed to very affecting, melancholic use that really touched the heart, and the crowd gave him a huge ovation at the end. Shepp continued to touch the crowd with his sax on "Sometimes I Feel Like a Motherless Child." Jason's piano section added even more emotion to the song, which finished with Cécile's exquisitely expressive storytelling. This moving concert more than lived up to expectations, and it was an incredible end to the 2022 Charlie Parker Jazz Festival!
The 2023 Charlie Parker Jazz Festival will take place from August 20 to August 27, and the artists will include Orrin Evans, Dianne Reeves, Endea Owens, and Vincent Herring. For more information, go to: https://cityparksfoundation.org/charlieparker/.