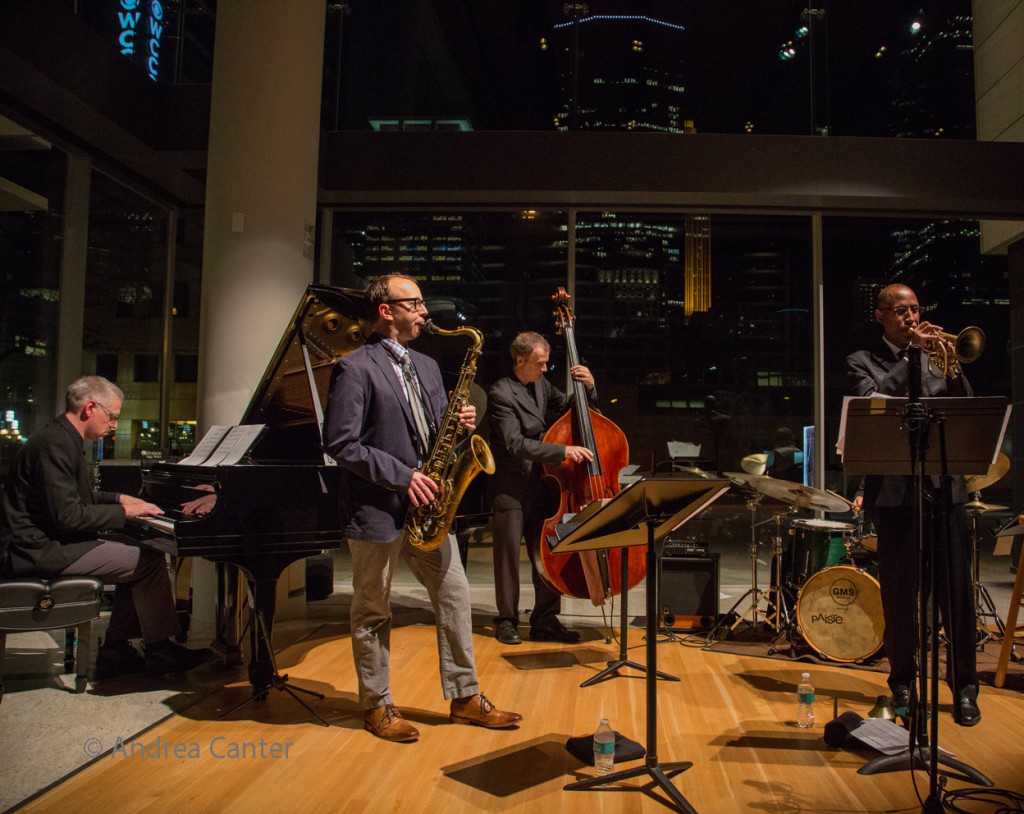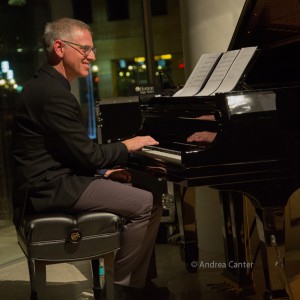 Jazz: "New Orleans invented it, Chicago expanded it, New York refined it—but the Midwest territory opened it up and taught it to swing." Orchestra Hall in downtown Minneapolis thus describes the second season finale of Jeremy Walker's Jazz in the Target Atrium series, taking place on Thursday, April 28 (7:30 pm). Launched in late 2014, the series has emphasized original compositions with such guest stars as David Berkman, Ron Miles, and Wesell Anderson. This season, Walker and participating musicians have emphasized "new regionalism," looking at the roots and evolution of jazz from New Orleans and New York to Chicago, Kansas City and beyond. Ending the season now in "The Wild Midwest" –a region known for creative innovation–this concert assembles the largest Atrium Jazz Ensemble to date. Walker combines the artists from several editions of the AJE in what he describes as a "musical throwdown," featuring all-original music from Walker and fellow pianist Bryan Nichols. They're joined by visiting former Minnesotan John Raymond (trumpet), Chris Thomson and Brandon Wozniak (saxophones), Jeff Bailey (bass) and JT Bates (drums).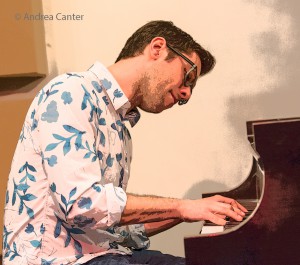 Pianist Bryan Nichols returned to his native Minnesota after studies at Iowa State and gigging in Chicago. A member of the 2004 edition of Betty Carter's Jazz Ahead ("Jazz Stars of Tomorrow"), he performed at Kennedy Center in Washington, DC. He's played with Ari Brown, Maurice Brown, Von Freeman, and more, and has taught at the MacPhail Center for Music and University of Wisconsin-Eau Claire. Locally Bryan is heard with his own trio, quintet and large ensemble, We Are Many; performs and tours with Dave King; and appears with other innovative artists including Zacc Harris, Chris Bates, JT Bates, and more. He's a frequent duo performer on weekends at the Icehouse, often with bassist James Buckley. Bryan was a 2010 recipient of a McKnight grant and released Bright Places in 2011; he performed solo at the 2016 Studio Z Winter Jazz Festival, previewing compositions from his upcoming solo release (May 2016).
Saxman Brandon Wozniak previously lived and worked in New York City, toured with the Tommy Dorsey Orchestra, and earned his BA from Indiana University under the tutelage of David Baker. Since arriving in the Twin Cities in 2006, he has performed with local bands including the Atlantis Quartet, Red Five, Dave King Trucking Company, the Bryan Nichols Quintet, Zacc Harris Quartet, and Vector Families; and in varying combinations with Adam Linz, Billy Peterson, Dean Magraw, Kenny Horst, Zacc Harris, Steve Kenny and more. Brandon has performed with the Atrium Jazz Ensemble since its launch with the opening season of the Jazz in the Target Atrium series.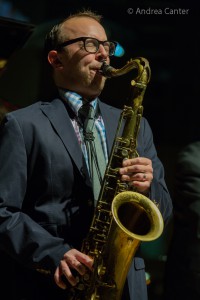 Saxophonist Chris Thomson studied classical and jazz music, toured with the Glenn Miller Orchestra, and began composing and leading his own bands during the short-lived run of the Brilliant Corners club in St. Paul. Turning to more adventurous use of electronics when a bike accident temporarily restricted his ability to use his saxophone, Thomson began investigating "new sonic territory" via his laptop, and has been more seriously "delving into the infinitely deep and ever-changing world of computer music, finding new influences in the various styles of electronic music that friends have been exposing me to." Over the past few years, Chris has been recording and/or performing with many of the Twin Cities most creative artists, including J.T. and Chris Bates, Anthony Cox, Dean Magraw, Dave King, Dosh, Jay Epstein, Bryan Nichols, Michael Lewis, Adam Linz, Alden Ikeda, Tim Glenn, Greg Schutte, Adam Levy, and Enormous Quartet, in addition to his own Bells and Whistles ensemble. Chris keeps a busy teaching schedule at Mainstreet Academy for the Arts (Hopkins), Hamline University and MacPhail Center for Music.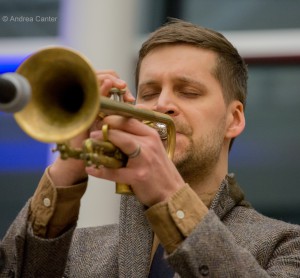 Now based in New York, native Twin Citian John Raymond is one of the most lauded young trumpeters on the Big Apple jazz scene. A graduate of UW-Eau Claire and SUNY Purchase jazz programs, John played in Jeremy Walker's Jazz Is Now! ensemble as a college freshman.  John has now released three acclaimed albums, including his quartet recording with drummer Billy Hart (Foreign Territory, 2015) and his Real Feels Trio CD (Real Feels, 2016). In Minnesota, John has worked with Nachito Herrera, Bryan Nichols, Yohannes Tona, Graydon Peterson, Chris Bates, JT Bates and more, and founded the Twin Cities Horns. Recent affiliations in New York include Orrin Evan's Captain Black Band and Grammy-nominated vocalist Sarah Bareilles.
Jeff Bailey is well regarded as a bassist, composer, teacher and producer. He has performed with such local and international stars as Captain Jack McDuff, Craig Taborn, James Carter, Nachito Herrera, Eric Gravatt, Rodney Jones, Dave King, Brian Lynch, Wessel Anderson, Andrés Prado, Doug Little, James Moody, Ellen Lease and Pat Moriarty.  Beyond jazz, Jeff has also toured and performed with Keri Noble, Joey McIntyre (NKOTB), Tommy Barbarella (Prince), Charles Lazarus (Minnesota Orchestra), Reverend Billy Steele and more. Jeff has also received accolades for producing a Minnesota Music Award-winning CD for Alicia Wiley, received a Best of the Twin Cities Award as a founding member of Moveable Feast, and a Minnesota Music Award nomination for best Bass Player of the Year. He has performed with the Atrium Jazz Ensemble on several concerts over the two seasons.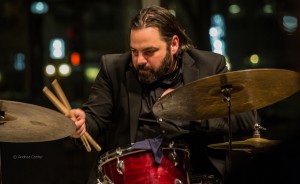 One of the busiest drummers in the Twin Cities, JT Bates was recently named Jazz Artist of the Year by City Pages. He was a member of Motion Poets and has worked with a variety of Latin, electronic, and experimental ensembles, including Low Blows, Zacc Harris Quartet, James Buckley Trio, Fat Kid Wednesdays, Bryan Nichols Quintet, Alpha Consumer, The Pines, and his organ trio, Grain. Noted Richard Brody in The New Yorker, "In free rhythm, his shimmering cymbals recall Sunny Murray's work with Ayler; the tom-tom groove is like the one Ed Blackwell got with Coleman; and, when he plays on an ethereally introverted modernistic piece, he sounds like a one-man Art Ensemble of Chicago, ready to use anything for the right sound…" JT curates the Monday night "Jazz Implosion" at the Icehouse, which he brought to south Minneapolis after a number of years running the series in the Clown Lounge in St. Paul, making it the longest-running jazz series in the Twin Cities.
The Target Atrium is located within Minnesota Orchestra Hall at 1111 Nicollet Mall in downtown Minneapolis; www.minnesotaorchestra.org; tickets $25 ($12 students) at the door or online.