By: Bill Stieger for Jazzpolice.com – Photos by Andrea Canter
"As long as Jerry Bergonzi is around, no tenor player can rest on his laurels." – Saxophonist Michael Brecker.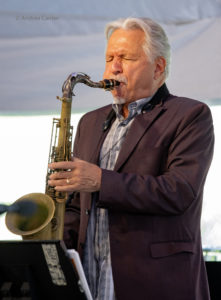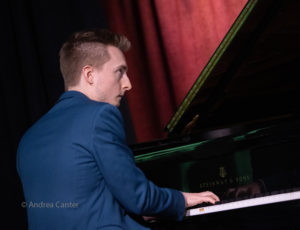 Master saxophonist Jerry Bergonzi gave an exhibition on the art-of-the-tenor as one of the headliners for the Twin Cities Jazz Festival, this summer's in-person appearances held at Crooners Lounge and Supper Club. The saxophonist was accompanied by fellow New Yorker Adam Nussbaum on drums, and local Wunderkinds, Charlie Lincoln on contrabass and Will Kjeer on piano–and they were a quartet that blended seamlessly. Bergonzi (73), a Dave Brubeck and Elvin Jones alumni, and professor of music at the New England Conservatory of Music, launched into the set with Harold Arlen and Johnny Mercer's "Come Rain or Come Shine," in tribute to the evening's fine weather. Bergonzi wasted no time evoking the spirit of John Coltrane,who recorded the piece for Prestige records, shortly after leaving the Miles Davis group. Bergonzi has much of Coltrane in his sound and takes a sometimes scalar approach in his solos–yet in perfect harmony with the chords and structure of the tune. Kjeer, undaunted by Bergonzi's display, put the boots to Bergonzi solo, buoying him up with a rhythmic barrage that spurred Nussbaum to counter punch on cymbals, with Lincoln's solidly handling the structure below. Kjeer switched gears on his solo, employing surprising lyricism, with a few double-time shifts included. Nussbaum kept the groove percolating with three beat phrases pushing over the four/four rhythm. Lincoln followed with a solo that perfectly outlined the form, never resorting to the high note noodling of lesser talents. Nussbaum finished with an astonishing variety of eight bar solos that displayed variety, delicacy, and power. To answer the question as to whether these guys were swinging would make one be tempted to ask where the Pope does his business. Bergonzi then played "In But Not Of," which Bergonzi introduced as a biblical response to today's political climate, remarking, "You have to live IN this world, but not be OF it." "In But Not Of" is a contemplation in bossa nova. A short introduction by Bergonzi led to a middle section played by Kjeer, who sustained the mood utilizing the range of his piano, then intensified the mood with an array of altered chords. Bergonzi then dove into his solo, leading with a series of honks and flourishes before launching his explorations in earnest, building on the group's accelerated urgency.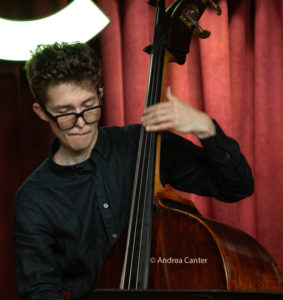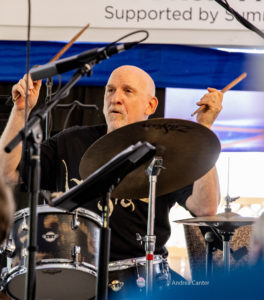 It should be noted that all the solos by the musicians in this quartet seemed to push the harmonic limits of the tunes, yet without the superfluous grandstanding and gobbledigook that can test the patience of listeners. Exploration-without-excess would be one way to describe the style. And the audience was rapt. The quartet followed up by lighting the fuse to Nussbaum's "We Three," which opened with a celestial Coltrane intro in rubato, then pulled away from shore in waltz time. Lincoln's early solo was a standout, and Kjeer, harmonically inspired, seemed to evoke the spirit of Bill Evans in his accompaniment. . Nussbaum floated the tempo with near perfect accompaniment. Between songs, both Nussbaum and Bergonzi often acknowledged the efficacy of their sidemen. Bergonzi said, "You know, people ask me questions like 'What's the future of Jazz music?' Well, they should ask the Young Lords, musicians like Will and Charlie. These dudes are on top of it."In keeping with the spirit of "On and Not Of" the quartet played Bergonzi's "Love Thy Neighbor." Bergonzi mentioned the title's premise as the cornerstone of all religions (and not an homage to philandering!). "Love Thy Neighbor" is a medium up tempo kicker, with a melody redolent of Sonny Rollins. Nussbaum stirred his snare drum with brushes then switched to sticks during Kjeer's piano solo. The standout performance in "Love They Neighbor" was Nussbaum's marvelous 32-bar solo that could stand as a treatise for drummers on soloing over standard form while yet maintaining the spirit of the tune. Nussbaum is a technically adept drummer. But there are many drummers with fine technique. Nussbaum's gift, however, lies in his musicality, both on the drums and in his interplay with the other musicians. Because he hears it all, and responds accordingly, he belongs among the best drummers playing. It's an ability born over time and over many years of experience–experience playing with some of the music's finest practitioners. You can't get what Nussbaum has from a drum book; you have to live it to play it, and Nussbaum has accomplished both. Bergonzi's short ballad, "Refuge" was written in sympathy for the suffering of refugees the world over. It was a marvelously melancholic solo on tenor saxophone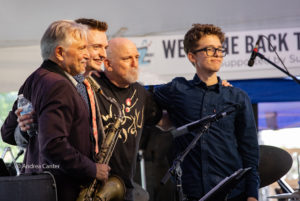 that needed no other soloists to follow. Kjeer's accompaniment in "Refuge" was sublime. The next tune surprised, as so few jazz notables still play Miles Davis's "All Blues," which one could cynically regard as the "Louie Louie" of jazz. Launched in 5/4 time with a raunchy solo in afro-feel by Nussbaum, a humorous arpeggio by Bergonzi, and an inspired solo by Kjeer.
Bergonzi then brought this old chestnut into new territory with a scrambling solo that made one understand that "All Blues" ain't yet ready for the mothballs. The quartet finished its evening with Thelonious Monk's "Pannonica." Kjeer played one of the richest solos of the evening and Bergonzi followed while Nussbaum played in chunky, off-beat accompaniment. Lincoln told a story in his solo, and Nussbaum's exhibition on brushes echoed the melody. In this era of musical dreck, where good musical artists often go ignored, where the "jazz that sells" is shelved under the category of "smooth,"and a nerd with a guitar and tape loops can fill a football stadium, it's hopeful and fulfilling to note musicians like Jerry Bergonzi, Adam Nussbaum, Charlie Lincoln and Will Kjeer can inspire, instruct, and entertain those in the know, those who can tell the difference.
"In my travels," said Bergonzi, "I have come across so many great musicians. There are so many great musicians, but good listeners are so few..So, thank you. Thank you for coming to Crooners to hear us tonight"