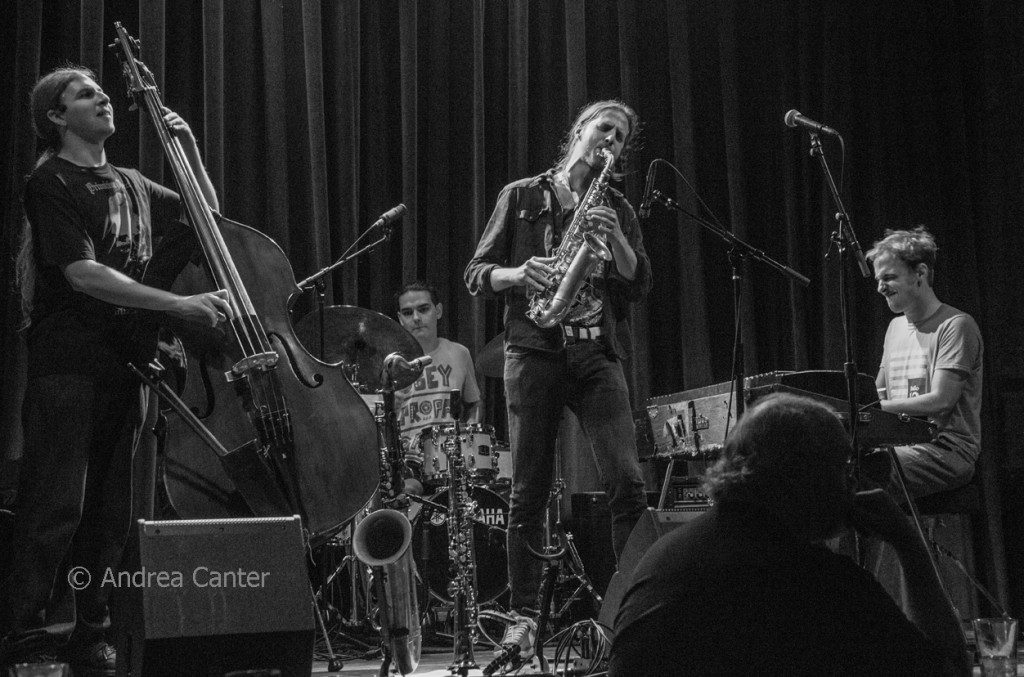 The best measure of the vitality of the Twin Cities jazz scene is the increasing number of young musicians studying in the area and/or coming home or moving to the Twin Cities to launch their careers. Four of these upstarts, barely out of school, came together at the Artists Quarter to form a new ensemble about three years ago. With Nelson Devereaux, Joe Strachan, Brian Courage and Miguel Hurtado, "Courageous Endeavors" lived up to its name, boldly launching the band's first recording (Prototype) in 2014, performing at the 2014 Twin Cities Jazz Festival, and appearing on the "All Originals" concert series at Studio Z a few weeks later. When the "courage" component of their moniker–bassist Brian Courage– relocated to New York in late 2014, the remaining band members carried on as simply "Endeavors," holding a reunion last summer when Courage returned for a quick visit. Brian is back in town for a few gigs, and the original Courageous Endeavors performs on the Saturday Night Jazz at the Black Dog series this weekend, April 2. And speaking of young upstarts, the opening set will feature Dark Blue, a quartet of similarly young and creative musicians featuring Thomas Strommen, Dylan Nelson, Jason McLean and Alex Burgess.
Dark Blue (7 pm)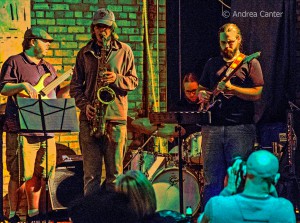 The young lions of Dark Blue have been active on the Twin Cities jazz scene for the past three-four years, playing original compositions and arrangements that belie their youth. All have connections to the University of Wisconsin-River Falls.
Saxophonist Thomas Strommen is in his third year of jazz studies, starting out at the University of Wisconsin-River Falls where he studied with David Milne, and now finishing his degree at the University of Minnesota where he studies with Dean Sorenson. During his senior year at Wayzata High School, Thomas was selected as a member of the Dakota Combo. Barely into his college studies, Thomas began playing with trumpeter and veteran bandleader Steve Kenny in Group 47, which released its debut Straight to Vinyl in 2014 and continues to perform throughout the Twin Cities. Thomas was the recent Featured Artist at Jazz Central. Guitarist Dylan Nelson is a spring 2015 graduate of UW-River Falls where he majored in music and minored in psychology. In addition to Dark Blue, he has played in the improvisation collective Grüve Trüpe, in the UWRF Falcon Band,  and in the bluegrass band, Walter Croll and Friends. Bassist Jason McLean attended the University of Wisconsin-River Falls, and plays with other bands including the indie group Red Nightfall. He works at Brickhouse Music in River Falls and taught in the rock band camp at Shell Lake Art Center.  Alex Burgess studies drums and percussion with Craig Hara and Patti Cudd respectively and improvisation with David Milne at UW-River Falls. In addition to Dark Blue, he's a member of Steve Kenny's Group 47, the Paul Woell Trio, the Bad Habits Brass, the Tommy Bentz Band, and leads his own group, Alex Burgess's Common Space. Alex teaches drums/percussion at Brickhouse Music in River Falls.
Courageous Endeavors (8:30 pm)
Nelson Devereaux is a 2011 graduate of the University of Minnesota's School of Music with a double major in Saxophone Performance and Music Education, with a focus on jazz and improvisation. He has studied with Dave Milne, Aaron Gardner, Mike Lewis, David Bixler. Clay Jenkins, Doug Stone and Berkeley Fudge, as well as with renowned classical saxophonist Eugene Rousseau. Devereaux plays saxophones, clarinet, bass clarinet, flute, piano and percussion. He leads his own trio, plays with the Jazz Wonderband, New Sound Underground, Jake Baldwin, and the Adam Meckler Orchestra, and is composing music for his debut jazz album.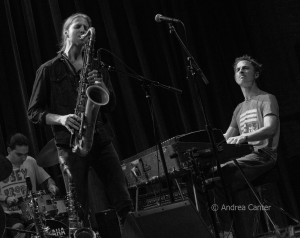 Pianist Joe Strachan is a 2013 graduate of the University of Minnesota,  and was the pianist for the third edition of the Dakota Combo (2008-09) while attending Northfield High School. A former student of Laura Caviani and Bryan Nichols, he first studied classical music, switching to jazz in eighth grade. After a year at Lawrence Conservatory of Music, he transferred to the U of M in Minneapolis where he found more performance opportunities, appearing at the Artists Quarter, Dakota and Studio Z and playing with John Raymond, Jake Baldwin, Alicia Steele, the Jazz Wonderband and more. More recently he has performed with the Adam Meckler Orchestra, Pete Whitman X-Tet, and a new trio led by Chris Bates, as well as Courageous Endeavors.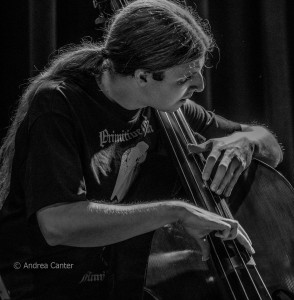 Bassist and New York native Brian Courage graduated from the Lawrence University Conservatory in 2012. He wasted no time getting his chops warmed up on the local jazz scene, playing with many of the local ensembles at the Artists Quarter, Dakota and Jazz Central, and playing first call for visiting artists like ace saxophonist Lew Tabackin. Brian was also one-third of the very hip three-bass ensemble, Mountain King, and locally played with everyone– Laura Caviani, Bryan Nichols, Vicky Mountain, Pete Whitman's X-Tet…. you name a top area artist and you could find Brian. Brian returned to New York in fall 2014, but manages to return to the Twin Cities once or twice a year. In the past week, he brought a quartet to Studio Z and joined a trio at Public Kitchen.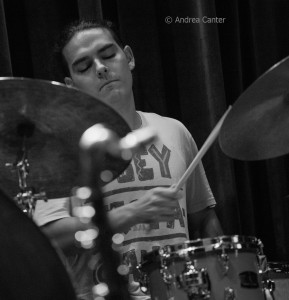 Miguel Hurtado (drums) played throughout the Twin Cities as a teenager with The Eggz, Second Nature and The Bridge, as well as with South High jazz ensembles. After graduating from the Manhattan School of Music in spring 2010, he returned to the Twin Cities where he quickly became a busy member of the local jazz scene. He led his own ensembles at the 2011 Twin Cities Jazz Festival, at the Artists Quarter and Dakota, and has performed with Jake Baldwin, John Raymond and Jeremy Walker. He's also expanding his musical resumé, playing with some local pop and R&B singers, particularly Alicia Steele and vocalist/rapper Toussaint Morrison.
Prototype (2014, Courageous Endeavors)
For their first studio project, the band turned to fellow musician and recording engineer Adrian Suarez at Black Walnut Studios, who handled all the recording, mixing and mastering tasks. The repertoire is all original music from Courage (two tracks), Strachan (3 tracks) and Devereaux (2 tracks), with Strachan and Devereaux collaborating on the final track. Overall, the music rises above what many other 20-somethings are recording these days, in part because the individual musicians are clearly committed to a true collaboration in sound and spirit, and in part because the music keeps moving — they don't get bogged down in the excesses that seem to plague many of their contemporaries (endless rumination, repetition, and inaccessible wanderings). Rather, the music of Courageous Endeavors pulls in the listener with challenging ideas, playful surprises, and genre-bending arrangements. (Read full review here.)
Saturday Night Jazz at the Black Dog is curated by Steve Kenny and takes place at 308 Prince Street in St. Paul's Lowertown arts district. No cover but donations ($10 suggested) appreciated to support the musicians and the series. Full schedule at www.saturdaynightjazzattheblackdog.info